**Warning: MILD spoilers for the 8 part documentary series. I will try to avoid any of the major content in the episodes**
I will forever be grateful to Netflix for the download feature. It allows me (and countless of other weary commuters) to catch up/watch new and interesting shows. One of the series that I chose to watch during the summer slump is an 8 part documentary on popular toys. At first, I was hesitant as documentaries have always been a hit or miss for me. But, I can safely say that these 45+ minute episodes were a massive hit.
The documentary itself is split into 2 seasons (4 episodes per). Each episode follows a toy,  tracing its history from the initial conception to the precarious ebb and flow of each product line and its reiterations as the toy companies battle for market supremacy and the money of little boys and girls everywhere (oh, and of course, the collectors, not the ones from Mass Effect 2). The documentary is presented in a very fun and lighthearted  manner. The episodes follow a very similar pattern: they start with a short dramatic reenactment of a key point in the toy's history, explore the beginnings of the toy, talk to its creators, offer a problem and then show the solution.
Following the opening theme and credits, the audience is treated to 40 odd minutes  of high paced interviews with numerous CEOs, high ranking (former or current) members of toy companies, toy designers, artists etc… Their interviews are weaved together to create a narrative which leads the viewers back in time to the very beginning of the toy. Not only focusing on the most successful line of the each toy, but also the most embarrassing moments (like slapping a Star Trek label on literally anything).
The documentaries do a great job connecting with audiences and tapping into our collective nostalgia (which is a VERY powerful tool, just ask J.J. Abrams à la "Force Awakens"). Almost every episode kept me on the edge of my seat, and I found myself actually caring about these toys and the people who made them. One minute everything is going well, the toy is succeeding, everyone is making money… THEN SUDDENLY… the music changes to something ominous and disaster strikes! The toy line doesn't succeed or there is a new toy on the market eating up revenue, or someone died that was an important part of the company. But somehow, the company and toy line always pull through (except for He-Man… looks like you DON'T have the power…). These tone shifts occur throughout every episode and keep each mini-documentary enticing and moving forwards in the classic structure.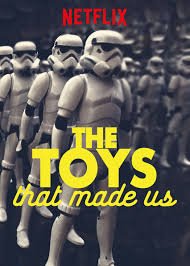 Now that the boring part is over… I mean… now that we have discussed the structure and purpose of these documentaries, I can do my job as an online writer and rank/rate them, because who doesn't like lists?
1. Star Wars (S1.E1)
The first episode proves to be the best one. Pushing aside a hint of bias on my end, it was amazing learning about the history of Star Wars toys and how they came about. Seeing the toys that I played with on screen really triggered a nostalgic feeling and my commute was over before I knew it.
This episode is the one that captured my interest in the series and pushed me to watch the other 7 episodes.

Rating: 9.5/10
2. Hello Kitty (S2.E4)
Hello Kitty is everywhere, as the painful Paris Hilton cameo in the episode made it clear. So, what better way of appreciating Kawaii culture than learning about Japan and the history of Sanrio.

At first I thought they were talking about Kawhi Leonard (from the Lakers or 76ers… you heard it here first!), but once I turned on the subtitles, I was made aware that it was not the basketball player, but rather the Japanese culture of cuteness.

Intersting interviews along with jokes left and right from the narrator made this episode standout from the rest, as we witness the scope and influence that Hello Kitty has on our society. Truly fascinating

Rating: 9/10
3. Lego (S2.E3)
One of my favourite memories growing up was going to Toys "R" Us and buying the new Star Wars Lego set, running home and building for hours with my mom. I LOVED (and still do love) Lego. I still enter the Lego store and go right right for the new Star Wars sets, commenting on how much better the old ones are.
So, little surprise that this episode is in my top 3.
Much like Hello Kitty, the impact that Lego on the world is emphasized by the documentary which really puts into perspective the power of plastic bricks.

Rating: 9/10
4. Barbie (S1.E2)
Toys for boys were all the rage during the 1950s, leaving the girl market wide open, and since that fateful day in 1959, that market has been dominated by Barbie.
What really sets this episode apart is how the documentary follows this iconic toy throughout the decades, detailing every change and "facelift" of the fashion doll as it attempts to keep a stranglehold over generations of little girls.
Humour is at the forefront of this episode, along with the numerous 'beefs' that Barbie was in (example: Barbie vs. Bratz)

Rating: 8.5/10
5. Star Trek (S2.E1).
Being a Star Wars fan, I was tempted at putting this one last, but I have to respect the legacy of Star Trek.
The episode itself is entertaining as always, but the narrator kept comparing Star Trek and Star Wars which got annoying as I have that discussion every 2.5 seconds on the interweb.
Overall, the episode was interesting as always, but lacked a certain spark that previous episodes had.

Rating: 8/10
6. Transformers (S2.E2)
TRANSFORMRS – ROBOTS IN… The theme is still stuck in my head after all these years. This episode did little to help me get it unstuck.
The episode does a fantastic job reminding everyone that Transformers used to be a respected franchise with gravitas, dignitas, and pietas (I finally put my classical civilizations major to use!) rather than a cash grabbing film franchise directed by Michael Bay.

As I wrote his name, I had a sudden urge to run in slow motion away from an explosion carrying an American flag.

The episode itself is stunning and tells the story of the toy line perfectly… but it just doesn't keep me interested as I was never a fan of Transformers.

Rating 8.5/10
7 & 8. He-Man (S1.E3) and G.I. Joe (S1.E4)
Tied for last place are two toy lines that were before my time.
Out of the 8 franchises and toy lines documented, these two are the only ones that are no longer present (if they are please correct me in the comments section below).
The narrative for these two focused on the rise and fall of the toys, creating a much darker theme which really resonated and stood out compared to the other 6 primarily positive and 'happy' episodes.
Not bad episodes by any means, but I was just not invested in the narrative and thus they slide to last place.

Rating: 8/10
Overall, "The Toys That Made US" is an enjoyable documentary series that focuses on the story of toys and their creators. I would highly recommend this to anyone who has any interest in toys or likes playing trivia.
Overall Series Rating: 8.6/10