Welcome to Talkies Network's official coverage of Warner Bros. and DC's panel here at San Diego Comic-Con! The panel will feature a plethora of live-action films such as Godzilla: King of the Monsters, Shazam! and the most anticipated feature, Aquaman. Keep refreshing the page for all the latest from WB and DC!
Aisha Tyler is out on stage to moderate today's panel. 
Montage of movies, Lord of the Rings, Harry Potter, Godzilla, Kong: Skull Island, It, Suicide Squad, Blade Runner, Mad Max, Fantastic Beasts, Lego Batman, Wonder Woman, WB Logo.
Fantastic Beasts: The Crimes of Grindlewald is up first. 
Fantastic Beasts footage hits, Newt looks at the audience and the bracelets they gave out light up as he lifts his wand. Parish symbol goes up, comic like images hit the screen. Eddie Redmayne comes out live on the stage and uses his want as the bracelets light up.
If he had been in the HP franchise other than the FB franchise, what character would you have wanted to play? "I'd love to be Hagrid. He loves these creatures more than Newt does. That's who I'd choose."
The cast of Fantastic Beasts comes out. Ezra Miller is wearing a pink Toad outfit (Mario) with lingerie stockings and vest.
NEW TRAILER ALERT:
Hogwarts is shown. I'm scared professor Dumbledore." Everyone is scared of something". He puts Newt up next in a training session and he conjures an office desk "Having to work in an office sir (manifests his fear). "Magic blooms only in rare souls Grindenwald still in skulking shadows". Wizards move the prisoner up the stairs. "The old ways serve us no longer" (Grindenwald). Crazy cat creatures with bulging eyes appear. Dumbledore meets Newt. "I can't move against Grindenwald. It has to be you. In your shoes I'd probably refuse too. Good evening Newt." Dumbledore dissapears. Giant blue fire dragon attacks, "You've never met a monster you couldn't love." Chariot in the sky fighting, Grindelwald says "Do you think Dumbledore will mourn for you?" Showdown between Grindelwald and Newt. "Are you God. No, I'm alive, I'm an alchemist but i'm immortal. NICOLAS FLAMEL!
When someone asked what they wish they could do with magic, one of the cast says impeach Trump. The spell offered is Impeachus Maximus. Ha. 
Jude Law is asked "How old is Dumbledore in this movie, and how different is he from other films."
"Did you just say awesome Judeness? He's a very sprightly 45. I lvoe the fact that he's called young Dumbledore because I'm 45 and I'm clinging onto that. You've got to remember the Dumblefore we known and love from the Harry Potter films is over 100 years old. He's got secrets", and also says he is slightly manipulative."
Johnny Depp's voice booms through Hall H. "You came today because you crave something new, something different. The moment has come, open your minds, and I will share with you the future." Depp's voice and the bracelets light up. He arrives in costume as Grindelwald on the stage.
The cast and crew of The Lego Movie Part 2: The Next Part is up next!
Jason Momoa Aquaman is in the new clip for the Lego Movie as Batman makes fun of him and says he's a nerd in orange and green spandex. Momoa says he's embarrassing him, and then says "My Man!" and leaves.
Chris Pratt comes to the stage with Elizabeth Banks and the whole cast and directors for LEGO Movie 2.
Footage hits for LEGO Movie 2.
Wildstyle looks out on a barren landscape as Pete brings he rcoffee, interrupting her brooding. Ships launch in the sky and hover over the city. Batman in Mad Max gear shoots some out of the sky. Star stuck in gate, "oh the pain, it's so cold". Emmet opens gate to save it and the invader captures Wildstyle. Harley Quinn says his rescue mission is a suicide mission. He goes off by himself. Rex Dangervest is a combination of all of Pratt's parts (Jurassic World, Star-Lord, Parks and Rec, etc). They compare vests. Vest Friends (Raptors on his ship. Tiffany Haddish is a unicorn but turns into a three-eyed Octopus. Has captured Lucy , Unikitty, and Batman. Batman is lowered into his Batcave that he rules over into a throne. He ends with, you're welcome."
Godzilla time. Long Live The King hits the screen.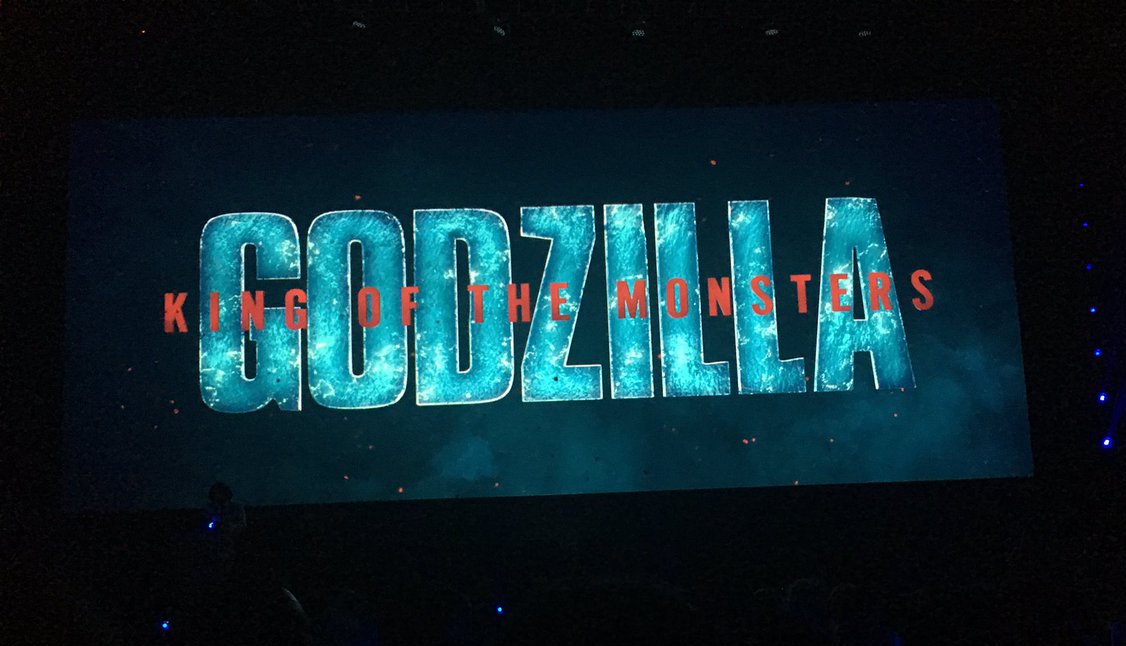 GODZILLA: KING OF THE MONSTERS brings out Millie Bobbie Brown, Vera Farmiga, O'Shea Jackson Jr, and Thomas Middleditch.
Vera Farmiga says that as a child, she used to hang out at the A&P and "I would think about what would happen if a mythical prehistoric creature came my way."
Millie talking about being part of a world that's been around since before she was born. 
Bear McCreary has been confirmed as the composer for the film and will be using the classic Godzilla theme. Stay tuned for a full description of the amazing trailer just shown.
Better yet, watch the trailer right now!
IT'S DC TIME WOOO!
Aquaman, Shazam and Wonder Woman flashing across the screen. WW gets the biggest screams, like she deserves.
Wonder Woman 1984 is up first. Gal Gadot, Chris Pine and director Patty Jenkins take the stage. Chris Pine being back is a BIG part of the movie.
Patty is asked "why 1984?" 
Patty grew up in the 80's, lots of things set in the 80's. A very different look and feel. It was mankind at its best and worst. There was a lot of elegant and beautiful things, at the same time that we're revealing the worst. Diana gets to see us at our most extreme. Peak of Cold War and nuclearization. And we thought it would go on forever, so it's an interesting time.
They are a mere 3 1/2 weeks into production but they really wanted to give something back to us. So, they're going to show us something super rough. Just to give us a tease.
Wonder Woman lands in the mall in full costume, with a little girl saying oh my gosh as Wonder Woman tosses her into a plush bear while apprehending two gunmen and crushing their guns. She hips her lasso around them runs the other direction and less off the platform to the level below. Then she runs down the street in full dash mode in full costume. Clip ends. Short, sweet and totally wicked. 
Patty: the thing i love about Wonder Woman — she is us, more than most superheroes. People find the Wonder Woman within them, no matter what. Staying true to that original Marsten Wonder Woman, who was so powerful yet warm, that is what I care about when I'm making the movie.
Gal Gadot says the film is more of a standalone story than a direct sequel to the first Wonder Woman. 
Patty chimes in, "I never want to do anything for the wrong reason. I want to make great movies in my lifetime. And we can make a whole new movie, that's as strong and unique as the first. It's not more of anything, it's its own thing."
IT'S TIME FOR SHAZAM!
The logo on the screen. Aisha Tyler bringing out Zachary Levi, who has a beer with him that he says was given to him by Jason Momoa.
Levi says this is complete wish fulfillment. This is 14 year old me that got to put on a cape and fly. This whole movie is about wish fulfillment.
HOLY SHAZAM! TRAILER! 
The rest of the cast is out!
Director David Sandberg auditioned over a 100 people. But when they saw Zach, they realized it was perfect. He was so enthusiastic about everything, and that's what's so childlike about him.
Levi thinks that Shazam/Captain Marvel could go toe to toe with Superman. PLEASE PUT HENRY CAVIL IN THIS FILM. 
"What's it feel like to play such a childish superhero?"
Levi says  "Like going home. I think that there are very few characters that are just super stoked to have powers and the responsibility with those and I love that. I got to be a genuine part of myself for this role. I love that I get to be that child. That there's still an optimism in him. That's why the Wizard picks him — because of his heart."
Levi continues: "There are very few characters that are just super stoked to have powers and to have that kind of responsibility. Billy Batson, Peter Parker, they are jazzed that they can fly. And I got to be a genuine part of myself."
AW YEA TIME FOR AQUAMAN!!!
Screens are dark. Sound of rushing water. Water overflows to reveal Aquaman logo, Jason comes out on stage! And now the rest of the cast… FLUSHES… into Hall H. Water puns… aren't they great?
Director James Wan says, "I wanted to create a superhero film that we've never quite seen before. I wanted our film to be more unique. So my movie plays more like a science fiction fantasy film than a traditional super hero movie."
Black Manta himself Yahya Abdul Mateen II reveals he didn't know how to swim when he initially got cast, and so had to teach himself. He was then told that the shoot required no swimming on his part. Lots of laughter from the audience. 
THE AQUAMAN TRAILER IS BEING SCREENED THIS IS NOT A DRILL. 
HERE IT IS!
So the whole crowd went nuts from that footage. Rightfully so of course.
Patrick Wilson (King Orm) on James Wan: "He put such attention to detail and character, so I knew he'd do such a good job with this."
Some guy just tried to pitch James Wan on an Aqualad movie during the Q&A portion. Awesome. 
More footage was shown: Mera and Arthur looking for the Trident. We get to see Mera use her powers — she uses Arthur's sweat to unlock an ancient seal to get the trident. More Atlantis scenes. The underwater scenes look gorgeous. The scope of this is undoubtedly epic. All the different kingdoms on full display. Sharks and alligators being ridden. Nicole Kidman as Queen Atlanna gets an action scene of her own. 
WOAH THE FOOTAGE SHOWS JASON MOMOA IN HIS FULL LEGACY AQUAMAN SUIT.
Oh and by the way, it was mentioned earlier that WB has officially named this iteration of DC films as "THE WORLD OF DC." Say goodbye to the DCEU. 
Well, that's it. Sorry to everyone who were hoping for a MAN OF STEEL 2 announcement but it is safe to say that Warner Bros. absolutely crushed it this year. Thanks for coming along with me today and keep it locked on Talkies Network for more on San Diego Comic-Con 2018!