We here at Talkies Network pride ourselves on being dedicated to bringing quality content online. That's why, instead of uploading 450 different articles about similar topics, we have decided to round up the biggest and most exciting news from Warner Bros. Television coming out of San Diego Comic-Con.
Warner Bros. Television had plenty of news coming out of its Comic-Con panels, including numerous teaser trailers, casting news and release dates for some of its biggest and most anticipated shows, some of which will be premiering on its upcoming streaming platform, DC Universe. So, scroll down to see everything that happened today!
Black Lightning 
He may have saved Freeland in season one, but Black Lightning (Cress Williams) is in for a new season of pain when Jordan Calloway returns as DC villain Painkiller in the show's sophomore season! Guest starring as Khalil Payne in season one, Calloway's promotion to series regular was revealed by showrunner/executive producer Salim Akil during Black Lightning's Comic-Con 2018 panel on Saturday, July 21.
Khalil Payne was a high school All-American track star with dreams of going to the Olympics until a stray bullet severed his spine, leaving him embittered and unable to walk. Black Lightning's archnemesis Tobias Whale (Marvin "Krondon" Jones III) offers him legs for loyalty. Khalil accepts the offer and receives cybernetic enhancements that transform him into the Painkiller, meta-strong and able to generate an anesthetic from his body that causes temporary paralysis when delivered through darts. Now, he is a living weapon for a ruthless crime boss. Before long, he pines for his old life and dreams, and his teenaged love, Jennifer Pierce (China Anne McClain).
Fans at the Black Lightning panel were electrified with the news. Akil said, "I'm thrilled to have Jordan upped as a series regular. He was a great asset to our show in the role of Khalil/Painkiller during season one, and now that he has evolved into Painkiller, I can't wait for you all to see him in season two."
Supergirl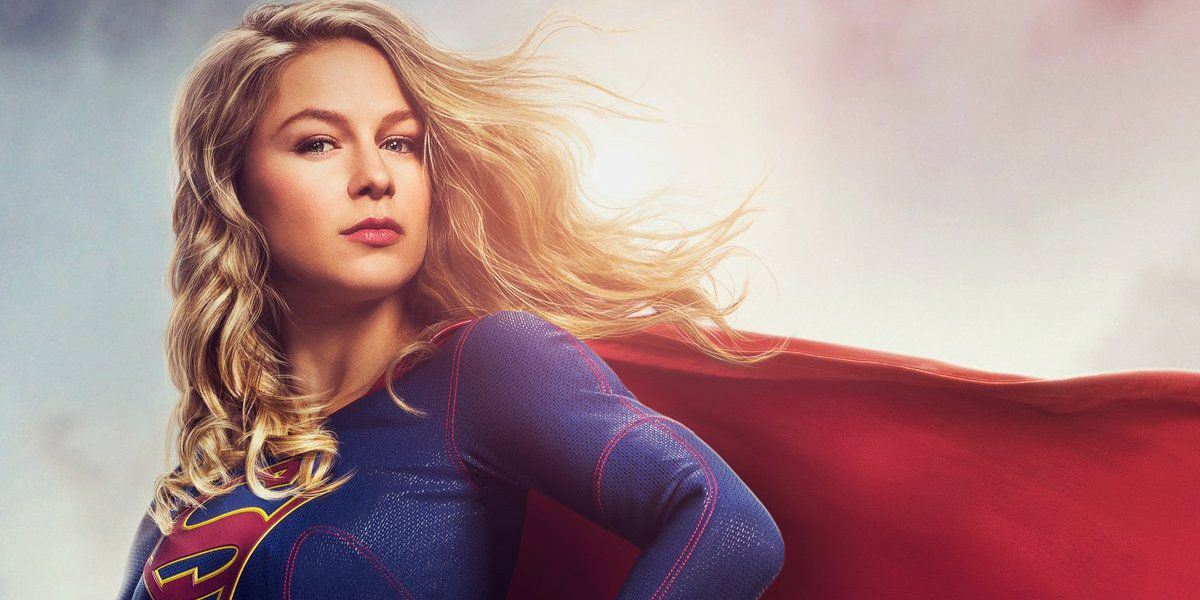 With the reign of Reign ended in last season's finale, cast and producers of The CW/Warner Bros. Television's hit drama Supergirl took the stage at the show's Comic-Con 2018 panel session to reveal that the DC Super Hero series will welcome three new cast members for the upcoming 2018–19 season — including TV's first transgender superhero. Transgender activist Nicole Maines (Royal Pains, The Trans List, Becoming Nicole book) will join the show in the series regular role of Nia Nal, aka Dreamer. In addition to Maines, Supergirl fans can look forward to the addition of the following new cast members: series regular April Parker Jones (Jericho, The Last Ship) as Colonel Haley and David Ajala (Dr. Who, Nightflyers, The Dark Knight), who will recur as Manchester Black.
Nia Nal (Nicole Maines) is the newest addition to the CatCo reporting team. A soulful young transgender woman with a fierce drive to protect others, Nia's journey this season means fulfilling her destiny as the superhero Dreamer (much like Kara came into her own as Supergirl).
Hardline career military woman Colonel Haley (April Parker Jones) lives and dies by the orders of her commanding officers. Dedicated to her country, she always acts in its best interest — even if it's not her own.
Based on the iconic DC character, Manchester Black (David Ajala) is the type of guy who brings a knife to a gunfight and still walks away the winner. With a dark past, he easily deflects the brutality of his mission with his charm and sense of humor.
These three cast members join the previously announced new series regulars Jesse Rath (who plays the Legion of Super Heroes' Brainiac-5) and Sam Witwer (who will play Agent Liberty).
Supergirl returns for its fourth season on October 14 in its new Sunday 8/7c time period on The CW. Based on the DC characters created by Jerry Siegel and Joe Shuster, the series is executive produced by Greg Berlanti, Sarah Schechter, Robert Rovner and Jessica Queller. Supergirl is produced by Berlanti Productions in association with Warner Bros. Television.
Arrow
In the shocking season six finale of Arrow, Oliver Queen (Stephen Amell) not only reveals himself to Star City as The Green Arrow, but he's also arrested and sent to prison. Cast and producers of The CW/Warner Bros. Television's hit DC series elaborated on what's in store for Oliver at Slabside Maximum Security Prison during Arrow's 2018 Comic-Con panel on Saturday, July 21.
Now that Oliver's behind bars, he will come face to face with many of his former enemies, including Ben Turner/Bronze Tiger (Michael Jai White),Derek Sampson (Cody Runnels) and Danny "Brick" Brickwell (Vinnie Jones). With all three held in Slabside, Oliver will be forced to confront these and other villains he locked up while wearing the hood.
In addition, Team Arrow will come up against The Longbow Hunters, a legendary group of assassins recruited by Ricardo Diaz (Kirk Acevedo) to enact his revenge on Oliver and the team after they took down his burgeoning criminal empire in season six. A trio of villains more lethal than any the team has faced, The Longbow Hunters include:
Red Dart (Holly Elissa – Whistler), a ruthless and precise killer
Kodiak (Michael Jonsson – Van Helsing), a beast of a man with brute force
and Silencer (Miranda Edwards – The Magicians, Orphan Black), a master of stealth
Arrow returns for its seventh season on October 15 in its new Monday 8/7c time period on The CW. Based on the DC characters, the series is executive produced by Greg Berlanti, Beth Schwartz and Sarah Schechter. Arrow is produced by Bonanza Productions Inc. in association with Berlanti Productions and Warner Bros. Television.
DC's Legends of Tomorrow
The carefree time travelers of DC's Legends of Tomorrow will welcome two new faces as they set out to hunt temporal Fugitives in the show's fourth season (Mondays 9/8c The CW this fall). The casting news was announced in the series' Comic-Con panel session this afternoon.
Ramona Young (Blockers, Santa Clarita Diet) joins the cast in the series regular role of Alaska Yu. A typical twentysomething easily swept up by romantic notions and fantasy novels, she's something of an expert in the world of the magical creatures that the Legends encounter in season four. In the company of the Legends, she soon learns to get her head out of the clouds to become a kickass superhero.
Tom Wilson (The Informant, Back to the Future, The Mayor) will recur as Nate's (Nick Zano) father, Hank Heywood. With a lifetime in the military and Dept. of Defense, Hank is part of a long line of Heywoods to serve the country. Charming and charismatic, he's left big shoes for Nate to fill — and it doesn't help that Nate can't tell him he's secretly a Legend!
These new characters join the previously announced John Constantine (Matt Ryan), Ava Sharpe (Jes Macallan) and Nora Darhk (Courtney Ford), who will all appear in season four.
Based on the characters from DC, DC's Legends of Tomorrow is from Berlanti Productions in association with Warner Bros. Television. Executive produced by Greg Berlani, Phil Klemmer, Keto Shimizu and Sarah Schechter, the series returns for season four on Monday, October 22, at 9/8c on The CW.
Titans
The live-action Teen Titans television show is straying from its action-packed cartoon past, choosing instead to go for a grittier, grim/dark tone this time around. In Warner Brothers' most recent trailer for the upcoming DC Universe show, Brenton Thwaitesprowls in the shadows as Dick Grayson, the first Robin, and murders a group of alleyway thugs. He breaks the neck of the last survivor and growls "Fuck Batman," setting the tone for the rest of the trailer. Teagan Croft also stars as Raven, the daughter of a powerful demon whose dark powers are controlled by her emotions, alongside Ryan Potter, who plays Beast Boy, a green-skinned teen who can turn into any animal he can think of. The final member is Starfire, played by Anna Diop, a fugitive alien princess with the ability to fly and shoot energy from her hands.
Titans is slated to premiere in 2019.
The Flash
After outthinking The Thinker, you'd hope that Barry Allen aka The Flash (Grant Gustin) might have some down time to contemplate his future with his new wife, Iris (Candice Patton). But with their speedster daughter from the future, Nora (new series regular Jessica Parker Kennedy), already grown and a part of their lives, they've now got to face Central City's newest menace — the DC Super-Villain Cicada! Season five pits Team Flash against yet another formidable adversary, the show's second non-speedster Big Bad, it was revealed by cast and producers at the show's 2018 Comic-Con panel on Saturday, July 21.
Chris Klein (Election, Oz, American Pie) has signed on as series regular to play next season's scourge of Central City, Cicada. A grizzled, blue-collar everyman whose family has been torn apart by metahumans, Cicada now seeks to exterminate the epidemic — one metahuman at a time.
The Flash returns for season five on Tuesday, October 9, at 8/7c on The CW. Based on the DC characters, the series is executive produced by Greg Berlanti, Todd Helbing, Sarah Schechter and Eric Wallace. The Flash is produced by Bonanza Productions in association with Berlanti Productions and Warner Bros. Television.
Legacies
The Vampire Diaries and The Originals spin-off Legacies, starring Danielle Rose Russell and Matt Davis debuted a new trailer Saturday. Drafting off the success of the series that came before it, the video promised "a new generation" of such popular storytelling would be born but also acts as an introduction to the world and the characters for anyone unfamiliar with the first two series. "When we're young, we're taught the difference between a hero and a villain — good and evil, a savior and a lost cause," Russell as Hope Mikaelson narrated, "but what if the truth is that the only difference is who's telling the story?" "Legacies" premieres Thursday, Oct. 25 at 9 p.m. on the CW.
Riverdale
Archie Andrews' legal woes may have just gotten a little more challenging today when the producers ofRiverdale announced that Golden Globe and Screen Actors Guild Award nominee Penelope Ann Miller (The Artist, Carlito's Way) will play the character of the district attorney, Ms. Wright. At the end of season two, Archie Andrews was framed by Hiram Lodge for the murder of a Shadow Lake resident named Cassidy. The savvy, eloquent Ms. Wright is the prosecuting attorney in charge of handling Archie's case. With a conviction in mind, she will weave together disparate moments of Archie's young life to portray him as a dangerous, violent sociopath who is capable of committing a heinous crime. His freedom will hang in the balance when the series returns to The CW for its third season on October 10 (Wednesdays 8/7c).
Penelope Ann Miller starred in Lifetime's New York Prison Break: The Seduction of Joyce Mitchell, and before that she starred in The Birth of a Nation, which received the prestigious U.S. Dramatic Jury Award and the U.S. Dramatic Audience Award at the 2016 Sundance Film Festival. Miller also starred in Awakenings, alongside Robert De Niro and Robin Williams; the Academy Award®-winning Best Picture The Artist; and Carlito's Way, for which she received a Golden Globe® nomination. She can also be seen in Chaplin and Kindergarten Cop. A Tony-nominated performer, Miller began her career on Broadway in Neil Simon's Biloxi Blues. She later reprised her role in the Mike Nichols–directed film of the same name. Other credits include Men of a Certain Age for TNT as well as American Crime and Mistresses for ABC.
Additionally, during the show's San Diego Comic-Con panel, it was confirmed that Gladys and Jellybean Jones, the mom and sister of Jughead Jones (Cole Sprouse), will be making an appearance in Season 3. According to reports, the characters are expected to make their debut in either episode 8 or 9 of this season.
Jughead's family has become somewhat of an enigma over Riverdale's tenure, mainly being alluded to through dialogue and an old family photo. While information about Gladys is somewhat of a mystery, fans know that she moved to Toledo with Jellybean, Jughead's ten-year-old little sister.
Since then, audiences have been wondering when Jellybean – or "J.B.", as Jughead has mentioned that she likes to be called – would arrive on the show, something that Sprouse himself has previously been unsure about.