Extermination #1 Review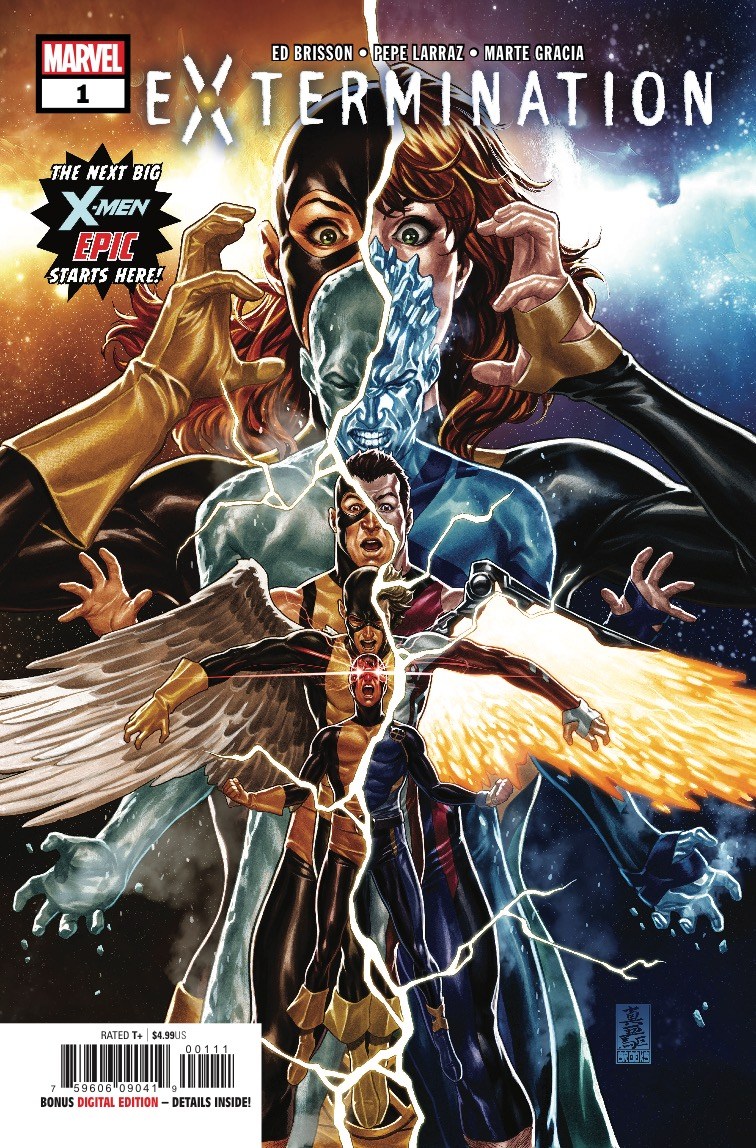 "While initially opening with a great story structure, the issue fails to make a case for why this time travel story should stand out among the many in X-Men canon. It needs to prove why people should pay attention to it, beyond finally solving a nearly decade old time paradox."
Rating: 3/5
Pearl #1 Review
"After a series of mostly disappointing Superman stories it's good to see Bendis back to doing what he does best. With a little more character development and the brilliant art of Michael Gaydos, Pearl can be another epic crime story for Bendis to add to his bibliography. So far it's off to a pretty good start."
Rating: 4/5
Batman #53 Review
Writer Tom King has put Batman through an emotional wringer but it seems like the time for healing has begun. Most of this issue centers on Bruce convincing his fellow jury that Batman isn't God — that the caped crusader is not infallible. The initial view of this story, that Bruce is given a chance to re-examine his actions as Batman, is proved false in the closing pages. He was on the jury for a reason and it was to prove to himself that his alter-ego is not perfect. Bruce has lost faith in himself and doesn't know what to do, so he decides to return to basics including the original suit that started it all. Batman's being rebuilt from the ground-up so Bruce can do something positive with his pain and ultimately move on.
King's script effectively brings out the pain Bruce has experienced throughout his life and not just the present, which makes for an engaging read. Week's art has been great in this story arc and he makes a Batman-tinged version of Twelve Angry Men visually stunning. His moody artwork, particularly in the issue's last page is a perfect fit for the story and I hope he returns to work with King on future Batman comics.
Rating: 5/5
Wicked + The Divine #38 Review
The penultimate issue to the series penultimate story arc was smaller in scale and much quitter than the previous installment but just as effective. Laura is the center of this issue as the aimlessness she's felt ever since becoming a part of the pantheon has come to an end. Throughout Imperial Phase I and II she engaged in hedonism that left her feeling nothing and felt disconnected from everyone in her life.
Gillen is continuing to slowly reveal the truth behind everything as each issue this arc begins with a sequence that explains the origins of the pantheon and Annake. This story has been playing out for centuries and there has been an emphasis on how the cycle constantly repeats. But Persephone is pregnant and Laura has had an epiphany. Everything breaks eventually it seems.
Nergal's decision to remain away from the action and finish his temple was the perfect follow-up to the last issue's major death. It was also wonderfully poetic to see Lucifer with her mouth sewn shut. Horrible for her of course but… I mean it should have any fan of this series in stitches.
Rating: 5/5
The Wild Storm #16 Review
This issue was mainly about John Lynch and Angela Spica, though it did include a major plot development that points towards the creation of a very familiar superhero (not exactly the right word) team that fans of Ellis should remember fondly. Spica has spent majority of the series running from I.O or hiding with the Halo Corporation despite being the incredible genius she is. The Wild Storm has been a slow burn to be sure, but Spica's arc has been very rewarding and the development this issue sets up what will most likely be the ultimate climax of this series.
Lynch is an interesting character and feels very much like the Nick Fury of this universe. He does seem to care about hos former project members but is always prepared to put them down if necessary. Holding the guilt of what his former allies have turned into seems to affect him greatly but he never loses sight of the larger picture. Lynch is a tortured figure and I really hope he is at the center of at least one spin-off title once this maxi-series concludes.
John Davis-Hunt's artwork is impeccable as per usual. Despite the grid heavy nature of The Wild Storm, Hunt is able to craft inventive page layouts and his skill at rendering all the advanced technology used by the characters is second to none.
Rating: 5/5 
Recommended Reading:
Babyteeth #12
Batwoman #18
Cinema Purgatorio #15
Gideon Falls #6
Infinity Wars #2
Ninja-K #10
Thor #4