** Warning: Spoiler alert ahead for an amazing movie **
One of the preeminent films for early Oscar consideration, A Star is Born is a cautionary tale filled with beautiful peaks and nightmare inducing lows. The Bradly Cooper led and Lady Gaga starring film is by far the best of the trilogy, surpassing the 1937 original and the 1976 remake of the story. I actually ended up watching the other two films since the Thursday morning screening, and there is a visible gulf in quality between the three (imagine the 2018 version as the Golden State Warriors and the other two are the Atlanta Hawks and Phoenix Suns). One of the many ways that the 2018 adaptation stands above the rest is due to the raw and powerful chemistry between Gaga and Cooper.
The chemistry between the two stars is the main talking point in most mainstream reviews of this movie, and with good reason. The way the director and writers translated the natural emotions encompassed through each character onto the screen was incredible. The transition between their awkward romance at the beginning of the film (having met at a drag bar), to her signing at the end of the film is truly captivating. From the opening guitar riff till the last note of Gaga's performance, the audience was insnared and enthralled at the age old story being presented on screen.
Bradly Cooper gives an outstanding performance, reminiscent of his Silver Lining Playbook days. Cooper plays Jackson Maine, a rock star who's career is fading faster than the pills and bottles entering his body. Both the movie and Cooper do a fantastic job at portraying the negative effects that drugs and alcohol have on the body and mind. The audience is treated to a high and/or drunk Jackson in almost every scene he appears in, stumbling through life, going through the motions in a dazed and confused state, holding onto Lady Gaga's character Ally for dear life. The audience also gets an rare look into the world of touring and music. An abundance of alcohol and an assortment of drugs littered throughout, poisoning the mind of a character that welcomes the distraction from his own personal sorrow:
Oddly enough, a quote from a children's movie comes to mind: "Just Keep Swimming." That is exactly what Jackson does. Throughout the movie, he keeps performing, he keeps moving at full sprint, forwards and onwards to the next show, the next appointment, the next public appearance, the next whatever. But sometimes… you just need a break. Going back to the aquatic analogy, sometimes you just need to tread water or (if you can) come up for a breath and get to shore. Take a moment and ponder inversely at life, at your place in this pale blue dot we call Earth. Catch your sanity before it spirals out of control even more. Get out of that water, because sometimes, swimming can lead to more damage and more pain, continuing the endless cycle of self-abuse and sabotage.
A great example of an individual doing just that is Justin Vernon, the founder and genius behind Bon Iver (shameless plug). Back in the early 2000's, the relationship with his girlfriend ended, and days later, his group disbanded. On top of all of that, he got mononucleosis, and appendicitis. Clearly spiralling, he decided to go to his father's old hunting cabin in the middle of the Wisconsin woods to regroup. Out of the months long self-searching journey, the world got one of the greatest indie folk albums "For Emma, Forever Ago."
Jackson attempts to do this, after almost destroying both his and his wife's career. He checks into rehab for 3 months and starts taking care of himself, both physically and mentally. He finally accepts help for this hearing problem and goes clean. For a little while, it seems like the film will have a happy ending. But, as with so much in this world, the possibility of a happy ending is just an illusion. Unfortunately, I will avoid any discussion of the final act, as the movie has yet to hit theatres and it is truly something the audience must witness with no prior knowledge.
Jackson's katabasis is painfully juxtaposed with Ally's rise to stardom. As discussed above, Jackson is struggling to keep afloat, while Ally is coming into her own and becoming a star of her own design, all while a romantic relationship develops between the two. At the beginning of the movie, it was adorable to watch a star struck and love smitten Ally get thrust into the world of music. Very much a 'deer-in-headlights' moment was shown when Jackson invited her on stage to sing a song she sang the night before (cute, right?). A couple nose jokes and numerous live performances later, Ally gets a shot at going solo by signing a record deal (yay!). Things could not be going better for her or her career… except for one thing: her boyfriend/husband. As her career blossoms (including a performance at SNL hosted by Alec Baldwin), Jackson becomes judgmental at the more pop centric direction she has taken and lashes out on her numerous times, mostly out of jealousy and helplessness. The love of his life is succeeding and constantly reminding him of his failures.
What really helps this movie stand out from the others (looking at you "La La Land") is the depiction of the actual relationship between Jackson and Ally. No matter how tense or rocky things get, their love for each other is eternal. Ally takes care of Jackson numerous times throughout the film, but none more heartbreaking then when he ruined her Grammy acceptance speech (yes, it was worse than Kanye's infamous debacle). Even after that, she stuck by him, and all through his rehab. She even cancels the European leg of her tour to be with him.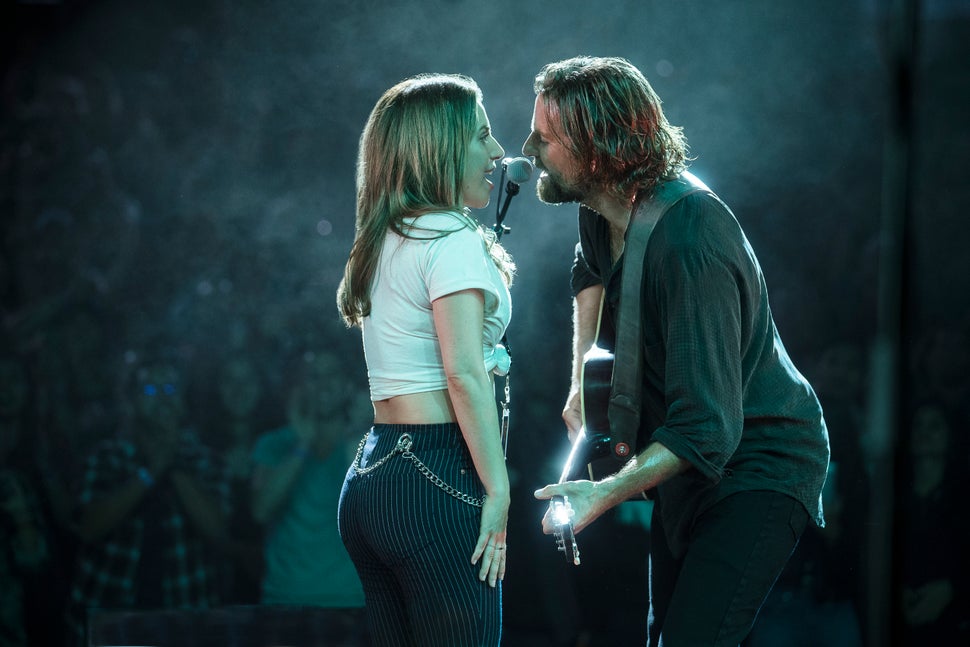 The amount of love she has for him is just an incredible thing. In a twisted way perfectly suited for this movie, Jackson loved Ally just as much as she loved him, but in his own way. His act at the end of the movie was, presumably, done out of love. Liberating Ally from the weight she bares by being with him. In his eyes and mind, he set her free. Long after the movie has stopped screening, long after the shock has worn off, one can't help but think of that love and how two people can go to two different extremes in showing it. Once again, I must refrain from talking about the final scenes due to spoilers.
Without a doubt, the two lead characters incredibly portrayed their characters, but this movie would not be the same without its amazing supporting cast. Such sophisticated and developed relationships between each character rooted the film in reality, making the emotional cues on screen much more poignant than it would have been in other instances. One clear cut example of a supporting cast member providing much needed gravitas to the film is Sam Elliot. In the film, Elliot plays the brother/father figure/tour manager of Cooper's character. The audience only finds out that they are brothers midway through the film, making the disintegration of their relationship even more heartbreaking. The two act off each other and the layers of their relationship make the movie much more interested, and again, much more rooted and emotionally draining.
Overall, this movie was an intense emotional journey with a lot to unpack. Cooper and Gaga shined, the supporting cast supported, and the music did not distract from the narrative. It also offers invaluable social commentary and a depiction of struggle and joy side by side.
Rating: 8.75/10
A Star is Born hits theatres on October 5, 2018.
Movies are amazing. But sometimes, they touch on very important and intense subject and themes. For that reason, I have attached a few resources below. Mental health is an important part of our lives and for far too long, stigma has prevailed. With movies such as this one and events that raise awareness to Mental Health, we as a world wide community can come together and start making a difference.
Kids Help Phone:
Good2Talk:
Center for Addiction and Mental Health (CAMH):