Bohemian Rhapsody manages to be a fun celebration of Queen and Freddie Mercury's life, one which is entirely superficial, for they were playing it safe rather than trying to be as bold or brazen as its larger-than-life subject. At its centre, Mr. Robot's Rami Malek manages to capture all the glamour of Freddie Mercury. The film also stars, Lucy Boynton, Joseph Mazzello and is directed by Bryan Singer. However, it is difficult to assess of how much involvement Singer had in the project, for he was fired by Fox about half way through. Even more development problems plague this series even from its inception where Malek had to step in to replace the departed Sacha Baron Cohen. And, director Dexter Fletcher stepped in to replace the later departing Bryan Singer.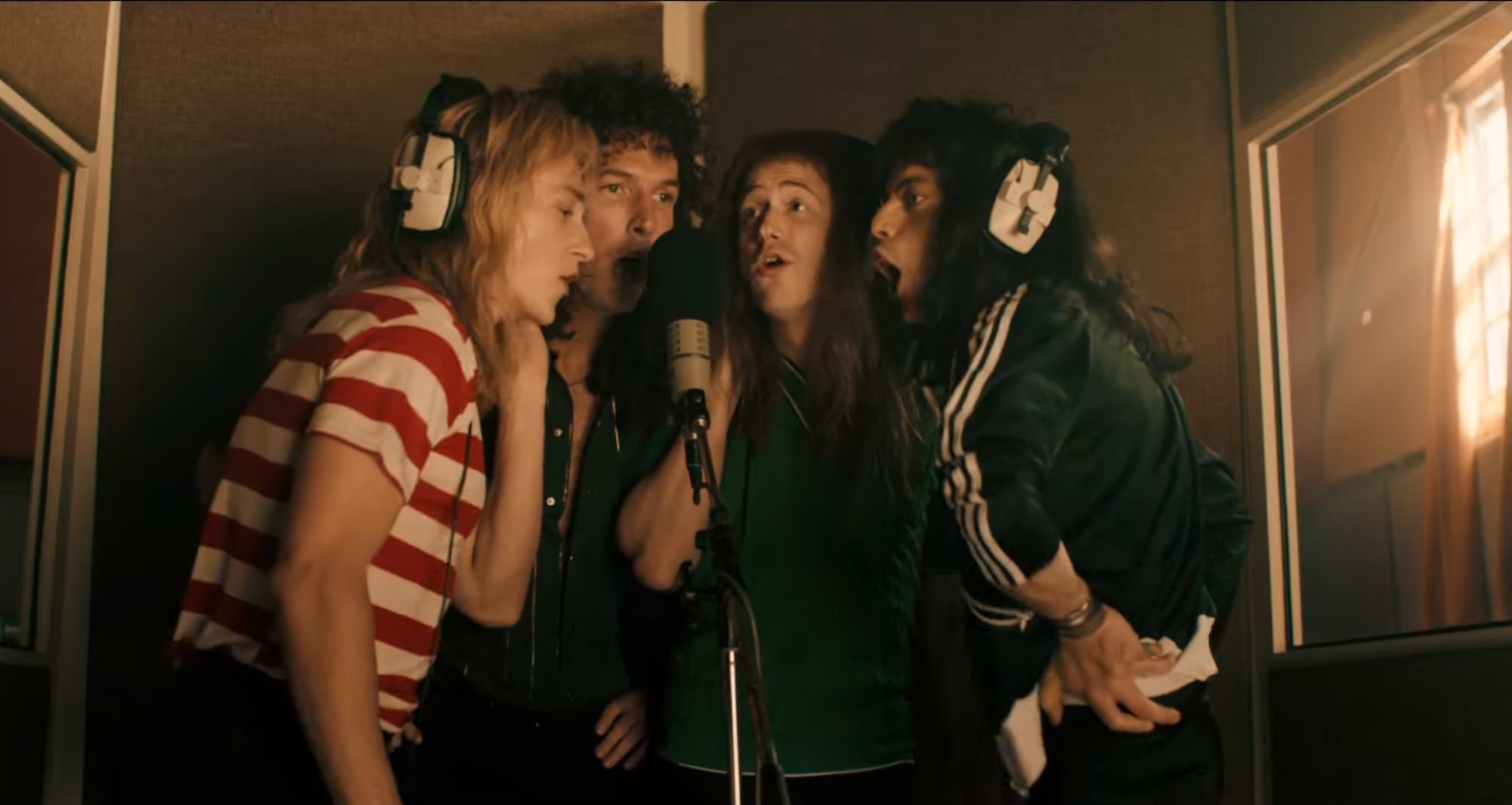 Undeniably the best aspect of this film has to offer is its music. For long time fans, you'll be jamming along with its funky beats. On the other hand, new comers will find an enriching experience of some the best songs that rock n' roll has to offer from the decade. Queen's unique sound is on full display, especially towards the end of the film with the Live Aid concert in Wembley Station. Queen's iconic sound is what influences tone and themes. Queen's sound is combination of hard rock, vocal harmonies, Brian May's highly overdubbed guitar work, catchy pop melodies, surreal humour and flamboyant, theatrical lyricism. Thus, shot composing are designed around the songs. For example, towards the end of the film Freddie is singing Bohemian Rhapsody, which is a reflective song, in where is has no prescribed meaning, thus the song asks its audience to reflect upon it. The film captures this by creating shots where the audience sees Freddie's reflection on his piano during the ballad section (0:49–2:40) of the song. This scene proves significant for at this point in Freddie's life, he is himself reflecting upon his life, which is very poetic in a sense. Thus, the film's music not only add to film stylistically but narratively as well.
Something I think most people will enjoy about this film is the way in which it depicts the song-writing process. Due to its narrative structure, the lyrics of some of their songs are now presented with historical and emotional context. This adds to likeability of the character, in which we witness songs like Love of My Life and I Want To Break Free being written. And, how the latter takes an emotional toll on Freddie when MTV banned the airing of its music video, which depicted the band members in drag clothing. Which brings me to another of the film's strengths or weakness; depending on your viewpoint.
Understanding the complexity of Freddie's life is exciting to watch, in which I was not expecting to see in this film to this degree. Some early negative reviews say that the film is overly romanticising Freddie's life, by using lines of dialogue which are too on the nose for one's liking. Despite disagreements stating that Freddie's life was one of endless glamour and arrogance, one which demanded attention, critics point to a scene in the film regarding the dispute of putting the 6-minute length song Bohemian Rhapsody on the radio when the standard is only 3-minutes. Freddie's dialogue from here on can be described as arrogant, for claimed excellence so early in their career. But with hindsight, the audience empathizes with Freddie and the band to get their song on the radio. Thus, the film is romanticizing the tale rather than trying to deliver the "truth" of Queen and Freddie Mercury. Therefore, we get reviews like these:
"Bohemian Rhapsody" creates a watchable paint-by-numbers ride through the Queen saga, yet it's rarely the movie it could or should have been. (Owen Gleiberman, Variety)

Like Queen, Bohemian Rhapsody is three parts good but not terribly exciting, and one-part absolute joyful, fabulous entertainment that makes you forget everything else around it. (Olly Richards, Empire)

Despite a strong performance by Malek, Bohemian Rhapsody plays out as an excessively sanitized version of Queen's story, rather than a labor of love. (Sandy Schaefer, Screen Rant)
It does seem that the film lacks dramatic conflict and obstacles throughout a good chunk of the movie. Sure, they're a bit short on cash at the beginning but soon enough they're rich and famous. Maybe it's because the film was made with the oversight from May and Taylor that everything in it feels safe as the surviving members were reportedly very concerned about protecting and preserving Mercury's legacy. Which is something I can understand. Whether these reviews fail to consider the reality of Freddie's life is not necessarily important. What is important is that audiences play witness to the life of love and loneliness of which Freddie's in which Rami Malek manages to capture perfectly. This is less of a biopic and more of a celebration of their career, whether that plays into strengthens or weakness of the film's quality is up for debate.
Rating – 7/10