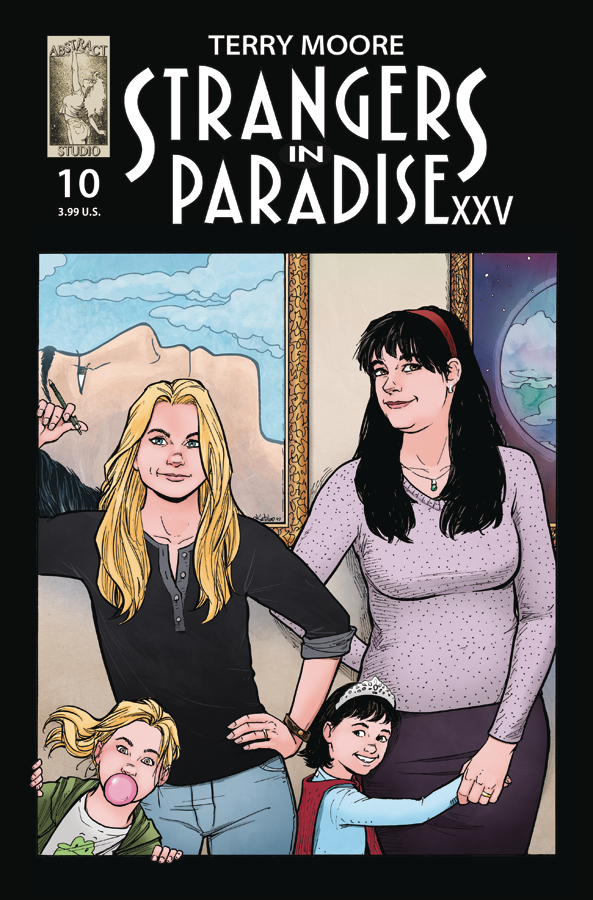 When I purchased a copy of this comic book from my local store, I didn't know that it would mark the end of Strangers in Paradise XXV. Then I saw the cover — a beautiful homage to the very first issue of Strangers in Paradise – and knew that the end had come. Moore uses the cover of Strangers in Paradise XXV issue 10 to show how his protagonists have progressed since their debut in 1993. In this issue cartoonist Terry Moore crafts the perfect ending to Katchoo and Francine's story.
The story for Strangers in Paradise XXV issue ten is an epilogue because the series' main conflict was resolved in the previous issue. It consists largely of character interactions which reflect issue nine's big reveal. Therefore, it's low on action but has some excellent emotional beats that keep the reader engaged until the last page.
Katchoo's return to Francine and their family was a long-awaited reward for readers of the series. Moore kept the couple apart for eight issues, each having their own storyline throughout the ten-issue mini-series. Strangers in Paradise XXV, at its core, was about Katchoo tying up one last loose end – closing off the final plot thread of the first three volumes. Now that the Parker Girls are out of their lives, Katchoo and Francine can continue to live in domestic bliss with their children.
This series was, in many ways, a cross over for Moore's characters, going further than the small teases shown in Echo and Rachel Rising. The shared universe they inhabit, while not the central component of Moore's story, does play a substantial role in the plot. Issue 10, much like the previous nine issues, always feels like a Strangers in Paradise story despite all the guest-stars and the worldwide implications of the plot. Moore's narrative never gets distracted, which leaves the reader with a great emotional pay-off.
I won't write anything too extensive about Moore's art in this issue. The art is up to the cartoonists usual standard on intricate linework. His character acting elevates the scenes between Katchoo and Francine, with the pages depciting the former's return home after her long adventure being particularly well done.
The action may have ended in Strangers in Paradise XXV #9, but Moore provides a final issue that brings closure to the larger Strangers in Paradise story that also teases big future plans. While Moore's next comic involves a crossover between every character in his shared universe, Strangers in Paradise XXV's finale feels like the perfect ending for Katchoo and Francine. The series' last long-running plot thread is finally closed and the cast can finally find some form of peace.
Rating: 5/5