On January 27th I tuned into Fox to see a live rendition of one of my favourite musicals, Rent. With an announced cast including the likes of Jordan Fisher (previously seen in Grease: Live and Hamilton: An American Musical), Vanessa Hudgens (Disney veteran and Grease: Live actress), Brandon Victor Dixon (Jesus Christ Superstar) and many more. However, on the night of January 26th during the dress rehearsal, Brennin Hunt who plays the lead character of Roger suffered an ankle injury. This posed a complicated decision on Fox's part. You see…they didn't hire any understudies. With Brennin Hunt unable to perform on his foot, he showed up with a wheelchair and cast all ready to go. The show must go on. But that's not the version we saw air on Fox. What the audience at home got to see was a not-so live version of Rent: Live in the form of a recording of the dress rehearsal from the night before. Fox's plan was to air the pre-recorded rehearsal on TV until the final acts where the cast would end the show off live. So here we are with two different versions of the show. One in the form of a concert-style rendition being performed for the live audience at Fox Studios and the other being the pre-recorded version for the folks at home. But what that the right choice?
This has taken me a while to write. I want to give this adaptation a fair chance. This musical has such a legacy that no matter what, the cast had a tremendous challenge ahead of them. Everyone has their preferences. Whether your loyalty lies with the original Broadway cast or you prefer the wits of those in the adaptation, the cast of Rent: Live opened up a new chapter for the legacy that Jonathan Larson left us. At first, I was very critical of the event. But then I came to the conclusion that it isn't fair to judge the cast so harshly based on what they thought was just their dress rehearsal. Quite frankly, the cast killed it and especially after seeing the clips from the concert version of the show, I was able to piece together in my mind what Rent: Live was supposed to be. My problems with the production doesn't lie with the cast, but with Fox itself.
The censorship is understandable…to a point. With Rent: Live being broadcasted on a major television network, it's reasonable that certain words would have to be changed. However, a lot of the censoring that Fox did was very selective. One very prominent show of this selective censorship comes in the form "La Vie Bohème". The censorship from this song can widely display the conservative agenda of the channel. They ease you into the selective censoring by swapping out piss for puke in the line "where people piss on your stoop every night". No harm right? As the song moves forward we really begin to see it through. Keeping lyrics such as "faggots, lezzies, dykes, cross dressers too" but swapping out dildos for latex and keeping in references to "mucho masturbation" makes you think. Censoring cuss words is one thing but being so selective shows just how taboo sexuality still is with media outlets even during production of a musical whose goal is to provide a safe space for sexual positivity and awareness. I guess Fox giving the okay to anything taboo was not the case for Rent: Live.
Enough about the negatives. Rent: Live did have many positives. First off, I'd like to praise Jason Sherwood for the beyond gorgeous set. Setting up for a production that has so many locations with limited space, Sherwood had to get creative. Sherwood in an interview with TVLine explained that "Essentially, the space is laid out in a series of islands…And then there's passerelles, or runways, that connect all of them. Everywhere that there's not actors walking around on elevated playing spaces, there's audience." The set divulges not just the audience but the cast into an immersive experience unlike your regular theatre production.
Now for the cast. Let's start with what was most surprising to me. Usually, Mark Cohen is my least favourite character in Rent. Yes, even including Benny. With that predisposition, I was prepared to just dislike this rendition of him as well by proxy, but Jordan Fisher's performance made me actually like and enjoy Mark as a character. Instead of Mark just being whiny, Fisher's rendition of the character adds in some fun quirks that really add likeability to the character. Quite honestly, I believe that Fisher was one of my favourite parts of the show and I found myself vying for another shot of him on screen.
In terms of Roger, I'll admit that I'm usually partial to Adam Pascal and Brennin Hunt was not who I'd imagined when recasting for the role of Roger. However, Hunt did not disappoint. Even in dress rehearsal, his performance as Roger blew me away. His voice gives me the raspy-rocker vibe that I know and love Roger for. His performance of "One Song Glory" gave me hope for the rest of the production and was one of the reasons that I stayed tuned in to continue watching. As for Hunt's on-stage love interest, Tinashe embodied Mimi Marquez's spirit perfectly, especially during her performance of "Out Tonight". In both the broadcasted version and the concert rendition, Tinashe nailed displaying Mimi's fun and flirty character whether it was with her effortless execution of the choreography or her improvised moves during the concert rendition.
Joanne and Benny often get overlooked at in terms of their performances but I have to say that Kiersey Clemons and Mario took those roles that were definitely not easy and executed them flawlessly. Being the villain is never easy but Mario definitely had fun with it and with someone who has the vocals that he does, Benny has never sounded better. Kiersey Clemons also takes Joanne's more conservative personality and lets us see her bloom with her on-stage chemistry with Maureen (Vanessa Hudgens).
Speaking of Maureen, Vanessa Hudgens had big shoes to fill when it came to stepping in for Idina Menzel. With her background in television productions of musicals with Grease: Live back in 2016, Hudgens undoubtedly has the experience in this type of setting. However, many people were still skeptical about how the High School Musical star would fare in the outwardly role of Maureen. Just as she did with her portrayal of Rizzo in Grease: Live, Vanessa Hudgens took the role of Maureen by the horns and surprised us all with how flawlessly she transformed herself into the diva we all know and love.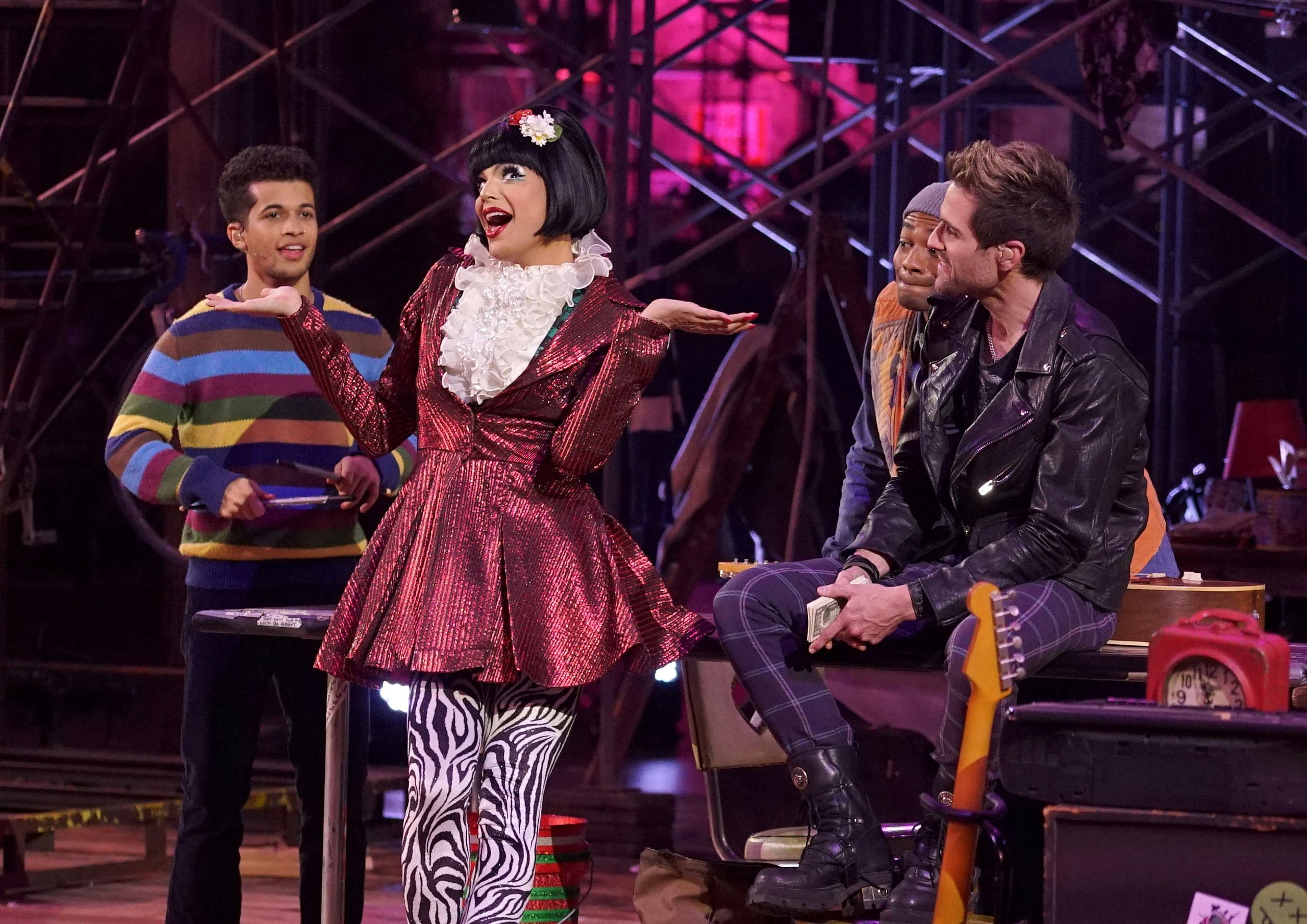 As an avid fan of RuPaul's Drag Race, it's not surprise that I was excited when they announced that Valentina (James Andrew Leyva) was cast as everyone's favourite, Angel Dumott Schunard. Visually speaking, Valentina was perfect for the part of Angel and truly showcased her immense skill when going from male presenting Angel to full-on drag Angel in just four minutes. Valentina's personality meshed perfectly with Angel's character and that truly shows in her execution of choreography such as in "Today 4 U". One criticism I do have though is that with Angel's strong voice, Valentina had a difficult time emulating Angel's key notes.
Apart from the main cast, there were many members of the production that made the show what is was whether it came in the form of supporting roles, dancers, or costume design. However, I will give a mention to a few people in particular, one of those people being Keala Settle. She is no stranger to the world of theatre and production and she sure did prove it during her supporting role as Cy and the solos she gave us during "Seasons of Love". And that wasn't the only surprise we got during that song. The original Broadway cast made a cameo to end of the show, taking us back to the beginnings of Rent.
Even though Rent: Live may have not been presented the way it was intended, in dealing with unforeseen circumstances the event went well. Yes, the set was gorgeous, the choreography was fun and curated well, and the dancers were amazing. But the main attraction of the musical is the story and the songs that follow along with it. That is why I believe that despite all of other amazing aspects of the production, the audiences at home would have been just as satisfied, if not even more so, with a broadcast of the live concert rendition of Rent: Live. Without the supporting theatrics, the cast put their heart and soul into their vocals for their last performance of Rent, giving a beautiful performance that Jonathan Larson would have been proud of.