Today, Disney held its annual Investors Day, and officially unveiled its highly anticipated streaming service, Disney+.
The platform, in the works since August 2017 when it was announced during an earnings call by Disney CEO Bob Iger, saw the entertainment giant start to pull its films from Netflix in a bid to use properties like Marvel to incentivize potential subscribers to the service.
There were several big announcements from today's presentation, and we've compiled all of it here for one massive comprehensive guide to the platform. So, without further-a-do, let's get into all things Disney+!
---
Price & Launch
Disney+ launches officially first in North America on November 12th, 2019 at a price of $6.99 USD monthly, and $69.99 USD annually. The service will be global, but not immediately. Below you will see a roadmap, which details when the service will be released in each region: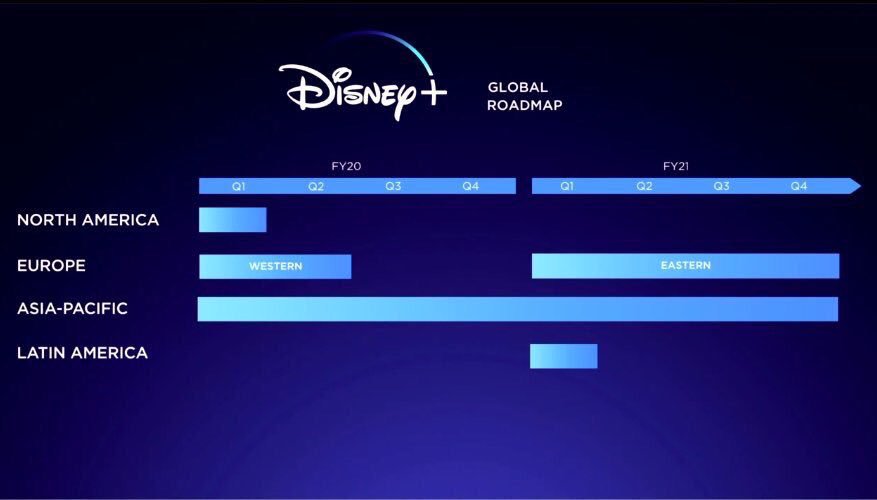 Disney+ will launch in Canada and the Netherlands in tandem with the U.S. on November 12th, priced at $8.99 CAD per month (or $89.99 per year) and €6.99 per month (or €69.99 per year), respectively.
The following week, Disney+ will launch in Australia and New Zealand on November 19th, priced at $8.99 AUD per month (or $89.99 per year) and $9.99 NZD per month (or $99.99 per year), respectively.
At launch, consumers will be able to subscribe to Disney+ directly or via in-app purchase and start streaming from the following partner platforms and devices (dependent on country):
Apple (iPhone, iPad, iPod touch and Apple TV, and fully integrated with the Apple TV app; customers can subscribe to Disney+ via in-app purchase);

Google (Android phones, Android TV devices, Google Chromecast and Chromecast built-in devices);

Microsoft (Xbox One);

Sony / Sony Interactive Entertainment (PlayStation®4 and all Android based Sony TVs);

Roku (Roku streaming players and Roku TV™ models)
---
User Interface
Similar to Netflix, the interface for Disney+ is sorted in a neatly fashion. Each major property that the house of mouse owns will be featured just below whatever film or television show is currently being highlighted.
Like Netflix, you can share your profile with the whole family. You can make your dream Disney+ profile by building your own custom avatar with characters from the Disney library. You can see a first look image of the landing pad below: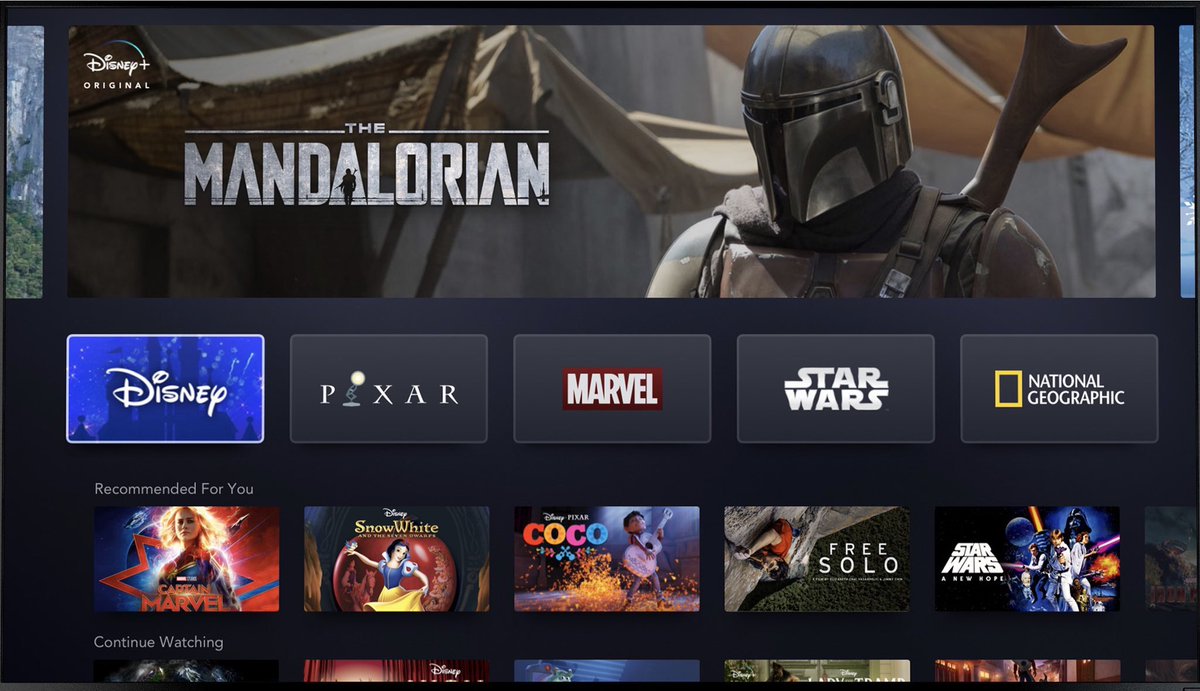 ---
Scripted Content
Since the announcement of Disney+ late last year it has been heavily touted that the streaming service will feature a robust amount of content, spanning both the Disney and Fox libraries. The company confirmed today that 5,000 episodes of Disney Channel content and 100 Disney Channel Original Movies will stream on the platform at launch. Fox shows like The Simpsons will see their entire episode log hit the streaming service as well at the time of launch. Additionally, Disney's entire 2019 film slate will be available on the service once their theatrical runs are finished.
All Pixar films and shorts will be available on the first day of launch for Disney+. Captain Marvel, Iron Man, Iron Man 3 and Thor: The Dark World will be available the first day of launch. Avengers: Endgame will be available in the first year of Disney+. The entire Star Wars franchise will be available in the first year of the platform. Overall, Disney is set to invest $1 Billion into original content for Disney+ by 2020.
Scroll down below for a full look at the scripted originals hitting the service:
The Mandalorian – Jon Favreau's The Mandalorian is set after the fall of the Empire and before the emergence of the First Order. We follow the travels of a lone gunfighter in the outer reaches of the galaxy far from the authority of the New Republic.

Star Wars Cassian Andor Series – Diego Luna and Alan Tudyk will reprise their roles as rebel spy Cassian Andor and droid K-2SO for the live-action series, which is set during the early days of the Rebellion and ahead of the events of Rogue One.
Untitled Obi-Wan Kenobi Live-Action Series –  Ewan McGregor is officialy back in his role as the noble Jedi master Obi-Wan Kenobi in an upcoming Disney+ series. Disney CEO Bob Iger previously confirmed that a third Disney+ Star Wars series was in development.
Star Wars: The Clone Wars – The animated series has been revived for its seventh overall season on Disney+ with a 12-episode order. Set between Attack of the Clones and Revenge of the Sith in the Star Wars timeline, the series ran for five seasons on Cartoon Network
Loki – Tom Hiddleston will reprise his role as fan-favorite MCU character Loki in the live-action series that will follow the trickster god as he pops up throughout human history as an unlikely influencer on historical events.
WandaVision – Paul Bettany and Elizabeth Olsen reprise their big-screen characters as Vision and Scarlet Witch in the series. Jac Schaeffer, one of the writers behind Captain Marvel, has signed on as showrunner.
Falcon and Winter Soldier – Anthony Mackie and Sebastian Stan will return as Sam Wilson/Falcon and Bucky Barnes/Winter Soldier in the miniseries, which has Malcolm Spellman (Empire) set to pen the script.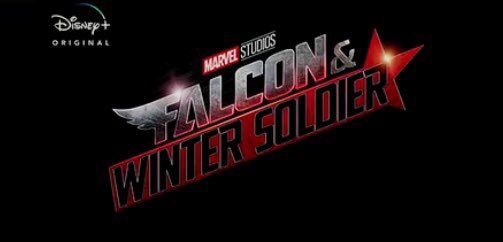 Hawkeye – A Hawkeye solo series starring Jeremy Renner will see Clint Barton, a.k.a. Hawkeye, passing the torch to Kate Bishop. The eight-episode story will be produced by Marvel Studios and Kevin Feige.
What If? – Kevin Feige revealed that Disney+ will feature an animated series series What If…?. Feige explained that What If…? is "Marvel Studios' first animated series. He said that the first episode is set in a world where Peggy Carter got the Super Soldier Serum, and scrawny Steve Rogers joined the fight in a suit of armor created by Howard Stark.
Ms. Marvel – Bisha K. Ali has been tapped to write and act as showrunner. Kamala Khan is Marvel's first Muslim character to headline her own comic book, and the MCU's first Muslim superhero.
She-Hulk – She-Hulk, aka attorney Jennifer Walters is the cousin to Bruce Banner. She is a hero whose blood transfusion was responsible for her powers. The last major Marvel character created by Stan Lee, the series is part of the MCU's phase four.
Moon Knight – Created by Doug Moench and Don Perlin in 1975, the character began as a hero before evolving into an anti-hero. Moon Knight is the vigilante alter ego of mercenary Marc Spector, who also has a couple of other alter egos (millionaire Steven Grant and cab driver Jake Lockley). The egos may or may not be separate, alternate personalities, and the same may be true of Khonshu, the Egyptian deity who is either guiding Spector through his costumed adventures or a figment of Spector's imagination.
Diary of a Female President – Jane the Virgin star Gina Rodriguez will executive produce the 10-episode series that is told from the narration of her diary and follows a Cuban-American 12-year-old girl as she deals with ups and downs of middle school and her journey to becoming the future president of the United States.
Monsters at Work – The upcoming animated spin-off/sequel set to debut in 2020 on the platform, picks up six months after the original film with the power plant now harvesting the laughter of children to fuel the city of Monstropolis. It will follow Tylor Tuskmon (Ben Feldman) an eager and talented mechanic on the Monsters, Inc. Facilities Team who dreams of working on the Laugh Floor alongside Mike and Sulley. The original Monsters Inc. cast will return for the show.
High School Musical: The Musical – The 10-episode story is based on the Emmy-winning franchise and will be "docu-style" series that follows a group of students at East High who stage a performance of High School Musical for their winter theater production. Every episode will feature a new rendition of a song from High School Musical as well as an original song.
Book of Enchantment – Adapted from Serena Valentino's book series, the drama will chronicle Disney villains like the Beast, Ursula and the witch from Snow White. Michael Seitzman (Quantico) will pen the script.  This series has been cancelled.
The Sandlot Sequel Series – Disney+ is developing a TV series based on The Sandlot. David Mickey Evans, the co-writer and director of the 1993 film, is attached to write and executive produce the series. It is said to take place in 1984 and would focus on the children of the original characters.
Forky Asks A Question – The first of two Toy Story 4 spin-off shorts will center on Forky, who was "just created" by Bonnie, and so has a lot of questions, ranging from the existential — "What is love?" — to the mundane and comical — "What is cheese?"
Lamp Life – The second Toy Story 4 spin-off short spotlights Bo Peep. It will explain just where she was and what she was up to during her time away from Andy, Bonnie, and their friends.
Chip 'n' Dale – 39, seven-minute episodes will be produced using traditional animation styles and feature contemporary slap-stick narratives as the furry pair struggle with life in the big city. The show is being developed by the company's London-based team in co-production with Marc du Pontavice's Paris'-based Xilam.
Bluey – The series follows a highly imaginative Blue Heeler dog and his canine pals. The series will play on both Disney+ and Disney Channel Junior, and is for pre-school audiences. Disney stated though that the series addresses its viewers in a refreshingly respectful way, never talking down to its young audience.
The Proud Family Revival – During a red carpet event for the horror movie 47 Meters Down: Uncaged, actor Tommy Davidson (who played Oscar Proud in the original series) confirmed that The Proud Family was officially making a comeback. Per Davidson, it would seem that the revival is already being worked on, and that new episodes will premiere on Disney's upcoming streaming platform,Disney+.
Love, Simon – A spiritual sequel to the 2018 acclaimed film, Nick Robinson is back as narrator for the new story. Set in the same world but featuring new characters, original director, Greg Berlanti, is not involved with the 20th TV-produced project owing to his commitments to Warner Bros. Screenwriters Elizabeth Berger and Isaac Aptaker (This Is Us) will serve as showrunners. Michael Cimino and Ana Ortiz head the cast.
---
Original Films
Lady and the Tramp – Tessa Thompson voice stars Lady and Justin Theroux is voicing the Tramp. Kiersey Clemons, Thomas Mann and Janelle Monae also star in the film from The Lego Ninjago director Charlie Bean. The film will be available on the streaming service at the time of its launch.

Noelle – Anna Kendrick stars as Santa Claus' daughter Noelle in the Christmas story with a female twist. Bill Hader also stars, and Did You Hear About the Morgans? filmmaker Marc Lawrence wrote the script and is directing. The film will release on Disney+ soon after the launch of the service.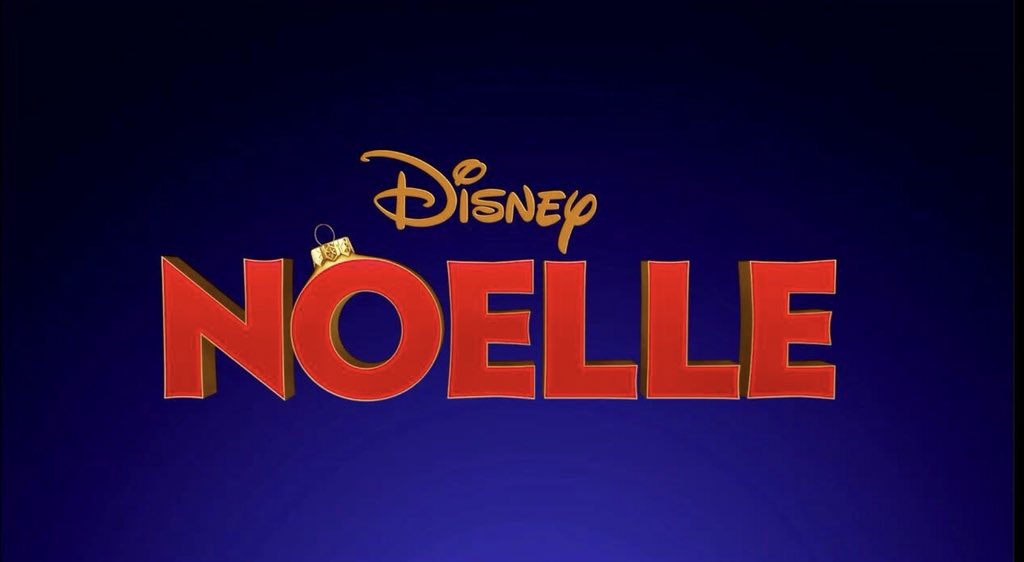 Timmy Failure – The film centers on the 11-year old boy who believes he is the best detective in town. He runs the detective agency, Total Failure Inc. with his partner, a 1,200-pound (and imaginary) polar bear. Spotlight filmmaker Tom McCarthy is directing the project, with Ophelia Lovibond, Chloe Coleman and Craig Robinson starring. Timmy Failure will be released on the streaming service in the first year of Disney+.
Togo – The action-adventure film stars Willem Dafoe and centers on a famous and dangerous sled-dog relay. Invincible director Ericson Core will helm the project. Tom Flynn wrote the script for Togo, which will hit streaming service sometime in its first year.
Stargirl – The film, which will hit the streamer sometimes in its first year, centers on a homeschooled teenage girl who enrolls in an Arizona high school. Her non-conformity alters the ecosystem of the student body and captures the heart of star-struck boy. Julia Hart directs from a script by Kristin Hahn. Grace VanderWaal, Graham Verchere, Maximiliano Hernandez and Giancarlo Esposito star.
The Phineas and Ferb Movie – Animated film featuring many of the original voice cast (working title). Available in during the service's first year.Flora & Ulysses – Flora & Ulysses tells the story of 10-year-old Flora, an avid comic book fan and a self-avowed cynic, who saves a squirrel she names Ulysses only to have its unique superhero powers wreak havoc in a series of humorous, antic-filled adventures that ultimately change Flora's life—and her outlook—forever. The film will be directed by Lena Khan, and stars Alyson Hannigan and Ben Schwartz.
Flora & Ulysses – Flora & Ulysses tells the story of 10-year-old Flora, an avid comic book fan and a self-avowed cynic, who saves a squirrel she names Ulysses only to have its unique superhero powers wreak havoc in a series of humorous, antic-filled adventures that ultimately change Flora's life—and her outlook—forever. The film will be directed by Lena Khan. Matilda Lawler will take on the role of Flora, marking her film debut. Alyson Hannigan (How I Met Your Mother) plays Flora's romance-writer mother, Phyllis, and Ben Schwartz (Parks and Recreation) plays the role of her world-weary, estranged father, George.
---
Non-Fiction Content:
Untitled Walt Disney Imagineering Documentary Series – The documentary series recounts the 65+ year history of Walt Disney Imagineering with parallel storylines of the people, the craft, and the business.
Into the Unknown: Making Frozen 2 – Documentary series showing the hard work and imagination that went into making one of the most anticipated Walt Disney Animation Studios features, Frozen 2. The series will be available during the first year of service.
Cinema Relics: Iconic Art of the Movies (working title) – An anthology series that takes a unique look at beloved films through the props & costumes that made them so memorable. The craftspeople who created them will be featured, as well as the actors who interacted with them, and the collectors and archives who own and cherish them. The show will be hosted by film historian and collector Dan Lanigan. Among the films featured in the first eight episodes are Pirates of the Caribbean: The Curse of the Black Pearl, Mary Poppins, The Muppet Movie, Tron (1982), and Who Framed Roger Rabbit?
Encore! – The Kristen Bell-produced series brings together former castmates of a high school musical, tasking them with re-creating their original performance in a high school reunion. With the help of Broadway stars, the group must pull off performances of beloved musicals like The Sound of Music, Beauty and the Beast and Annie.
Marvel 616 (working title) –This documentary series explores the historical, cultural, and societal context that has become congruous with Marvel's legacy stories.
Earthkeepers (working title) – This documentary series will follow conservationists and the animals they spend their lives studying. This beautiful cinematic experience will share the tough and tremendous moments of saving earth's most endangered species.
Be Our Chef – A competition format, hosted by The Office's Angela Kinsey, that offers families to create the next great dish for the Disney parks. In each episode, two families will participate in a themed challenge based on their family traditions and the winner will have their meal become a a featured dish served at Walt Disney World.
Rogue Trip – A travel guide to all the places the average tourist would never think to venture off to, specifically the frequently overlooked corners of the world. Hosted by Bob Woodruff and his 27-year old son, Mack, the show is executive produced by Jeanmarie Condon and Mack and Bob Woodruff for Lincoln Square Productions.
Shop Class (working title) – A competition format that features teams of inventive students who are tasked with designing, building, and testing new contraptions. In each episode, a panel of experts will rate their work based on engineering, design, and the final test of the build. The last episode sees one team will be named Shop Class Champs.
Marvel's Hero Project – This one really pulls at the heartstrings. Marvel's Hero Project shares the inspiring stories of young kids who dedicate their lives to being true superheroes and making positive change in their communities.
(Re)Connect – Get the tissues ready for this one. This show features one family with a modern day, relatable issue that's driving a wedge between them. Issues include workaholic parents, overly competitive siblings, technology addiction, or a family secret that has recently been revealed.
All of these families have reached a breaking point, and it's time for them to disconnect from their complex lives. With the help of a specialized expert, each family will go on a unique journey that organically ties to the issues they are facing in order to confront the family's dilemma head-on.
Storyboards – Marvel Entertainment chief creative officer Joe Quesada will host Storyboards, an original Disney+ documentary series. The season of Storyboards will be made up of roughly one dozen 10 to 15-minute episodes with a wide variety of guests, including former X-Men star Hugh Jackman in its premiere episode.
"We go on locations, but instead of food or culture being the focus, the focus is a guest, the way they tell stories, and their story." – Joe Quesada
---
---
National Geographic
The World According to Jeff Goldblum – Doc series in which Goldblum pulls back the curtain on a seemingly familiar object to reveal a world of astonishing connections, fascinating science, and a whole lot of big ideas. The series, originally set up last June at the Nat Geo network, will now be available at launch.
Magic of the Animal Kingdom – Documentary series which takes viewers behind the scenes with the animal-care experts, veterinarians, and biologists at Disney's Animal Kingdom and Epcot's SeaBase aquarium.
---
Rumors…
Take everything here with a grain of salt… but here's every project that we've heard is rumored for the Disney+ streaming platform:
For Marvel, Lady Sif, Rocket and Groot, Nebula And Gamora, and Nick Fury are rumored to be getting their own shows. Similar to the confirmed series', each show would run for about 8 episodes.
Frozen voice actor Josh Gad is working with ABC's Once Upon a Time creators Edward Kitsis & Adam Horowitz on a new Muppets show. As of now, the project is going by the title Muppets Live Another Day, and will immediately follow the events of The Muppets Take Manhattan in 1984. The gang is disbanded by Kermit for some reason, but they all must come back together following the mysterious disappearance of Rowlf.
---
The Launchpad Program
Disney has announced a new program for the platform that looks to spotlight diverse filmmakers and their stories. Titled "The Launchpad," the new program will select up to six filmmakers to make a short film for Disney+ over a 7-month program. Filmmakers will work closely with Disney mentors to script, develop and make an original piece of content. The goal of the program was to find directors of diverse backgrounds traditionally underrepresented in the film industry, and help them get a foot in the door into the film studio system.
---
Disney's Streaming Umbrella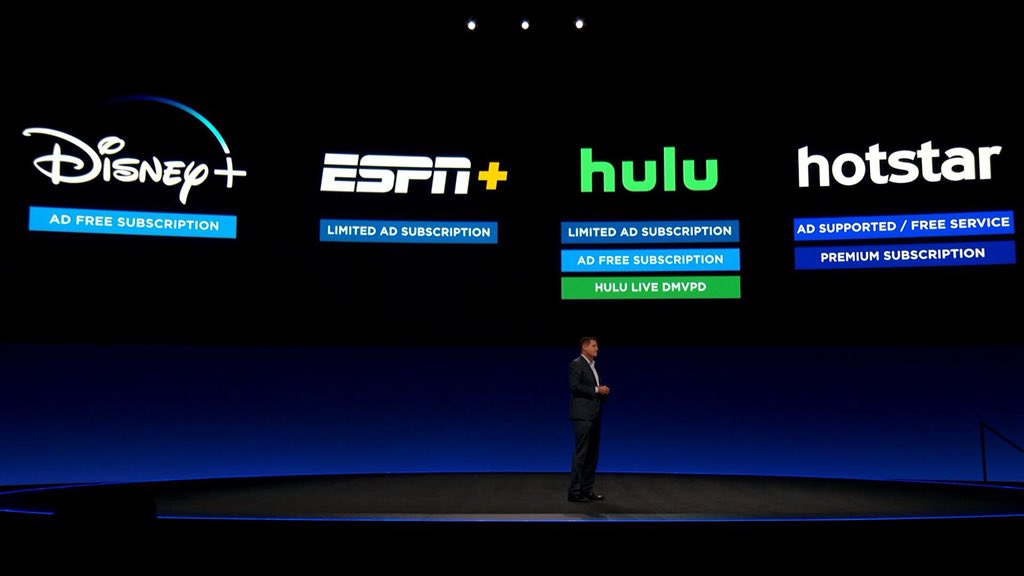 Announced earlier in August, on November 12, consumers in the U.S. will get a new and exciting value proposition with a bundled offering of Disney+, ESPN+, and Hulu for just $12.99 USD. This means they get all of the Disney+ programming plus thousands of live sporting events, sports-themed original series and award-winning sports documentaries from ESPN+; as well as Hulu's award-winning original content and on-demand streaming library.