"Something inside me has always been there. But now it's awake."
Welcome to Talkies Network's official live coverage of Star Wars Celebration! Today, the cast and crew of Star Wars: Episode IX will take the stage to divulge secrets from the conclusion of the Star Wars saga. The title, trailer, and new character are all expected to be revealed today.
It's about to get started. Fasten your ship belts. We'll be updating this post throughout the panel, so be sure to refresh for the latest updates.
John Williams' iconic music hits as the panel kicks off! Stephen Colbert will be hosting the Episode IX panel.
"I just flew in from Dagobah, and boy are my attack foils locked in attack position. If you don't understand what I just said, what are you doing here?" he asked.
Colbert introduces Kathleen Kennedy and JJ Abrams. The panel is officially off to the races! Kennedy is discussing George Lucas' impact on the franchise and how all three trilogies are three acts in one story.
"The thing I think about all the time is the responsibility we have," Kennedy said. "This one in particular. In the little film you saw at the front end, George was saying this is the third act of a three-act structure. It is. That's exactly what it is."
Abrams says Episode IX is hard at work in the editing process. They are currently working on visual effects specifically. "The process for a director always continues."
Colbert asks about filling the void left by the passing of Carrie Fisher. Abrams said he, co-writer Chris Terrio, and producer Michelle Rejwan discussed it extensively. Abrams confirmed that the film will use previously unused footage of Fisher as Leia from Episode VII and VIII.
Star Wars: Episode IX does take place some time after the events of The Last Jedi. The film will see our three main leads going on an adventure together.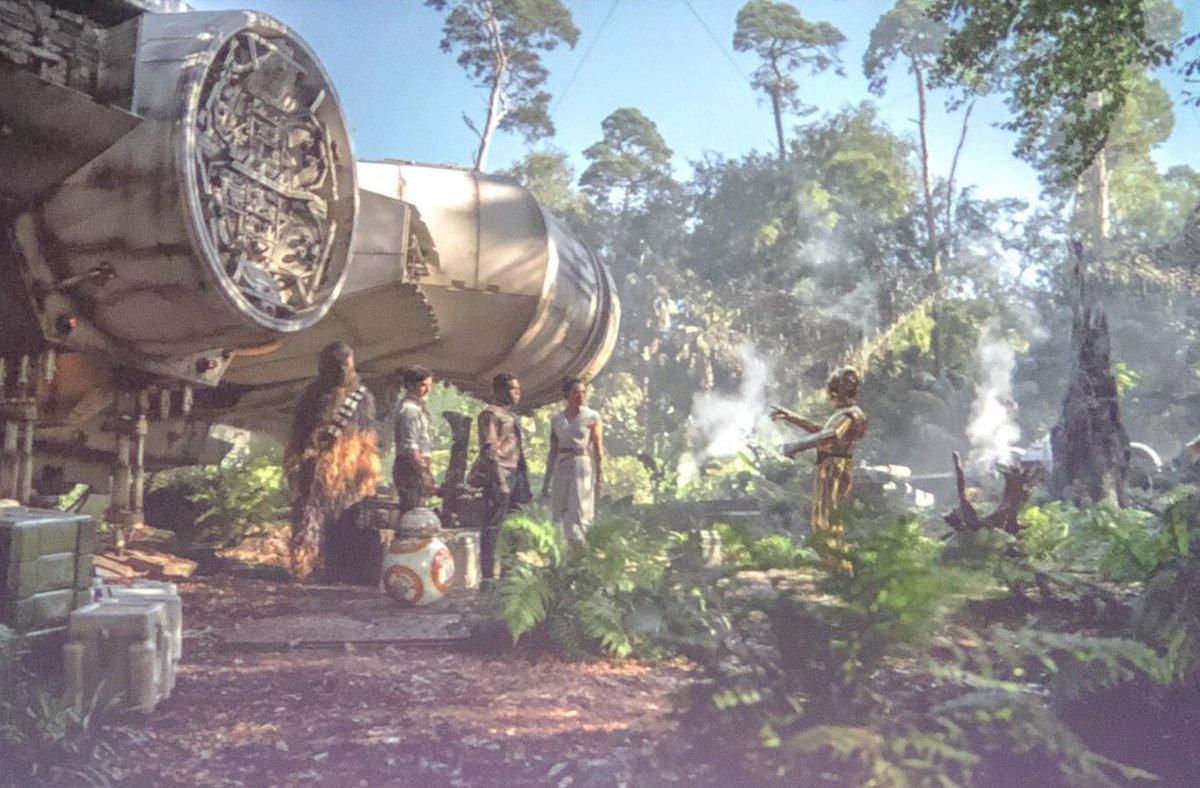 Abrams ensured that practical sets were used as a way to fully immerse the cast in the universal they were showing. He wanted a feeling that was reminiscent of what George Lucas did with Episode IV.
The cast of Episode IX is set to be announced. First out the gate is C3P0 himself, Anthony Daniels!
Anthony Daniels walks out with his decades-long robotic associate R2-D2. Daniels has appeared in every Star Wars theatrical film, the only actor who can make that claim.
"One of the things you notice about Threepio is he is the voice of reason," Daniels said. "Threepio is the one who tells you you're in danger, you should get out of there. And what does everyone say in three trilogies of movies? They say, 'Shut up.' I'm here to say 'Enough!' The droid fights back!"
Colbert asks about the title of Anthony Daniels' new memoir, which supposedly was rejected. "The title of my memoir was 'Telling the Odds,'" he said, a reference to Han Solo snapping, "Never tell me the odds."
Next up is Billy Dee Williams! Lando is back everyone!
Colbert asks Williams what it was like to slip back into the Lando role. "It never left" said Williams.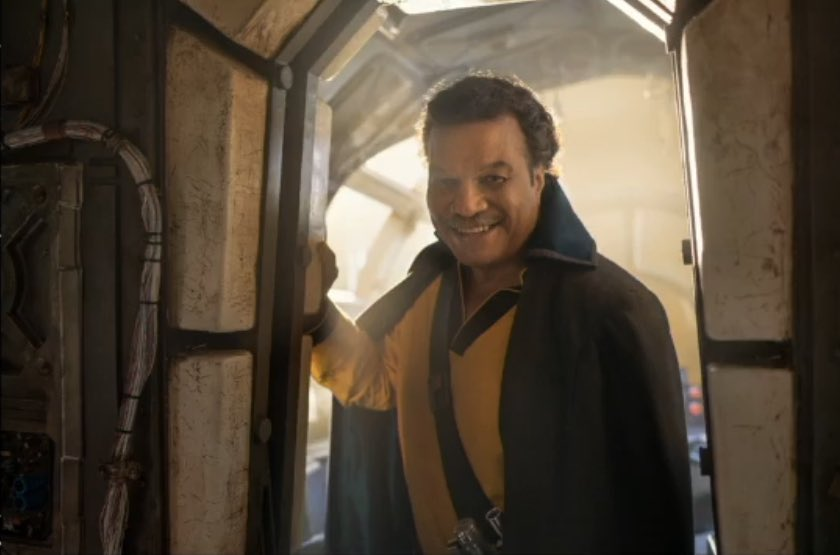 "Honestly, it was an emotional thing," said Abrams, who described the hush of Williams appearing on set.
THE NEW CAST TAKES THE STAGE! Daisy Ridley. John Boyega, Oscar Isaac, Kelly Marie Tran, Joonas Suotamo, and Naomi Ackie.
"I'm very ready to celebrate," Ackie says. "I've been waiting for this!"
What's it like to get the call that you're in the new Star Wars film? "I was in bed," Ackie says. "I got the call at 7 o'clock in the morning. I yelped and my dad ran up the stairs and sat at the end of the bed."
Ackie described the secrecy, as she couldn't even tell her best friend, who was sleeping over downstairs. Her father was the only one who know and was shushing her to talk softer. "He knew from the beginning — sorry J.J.," she said.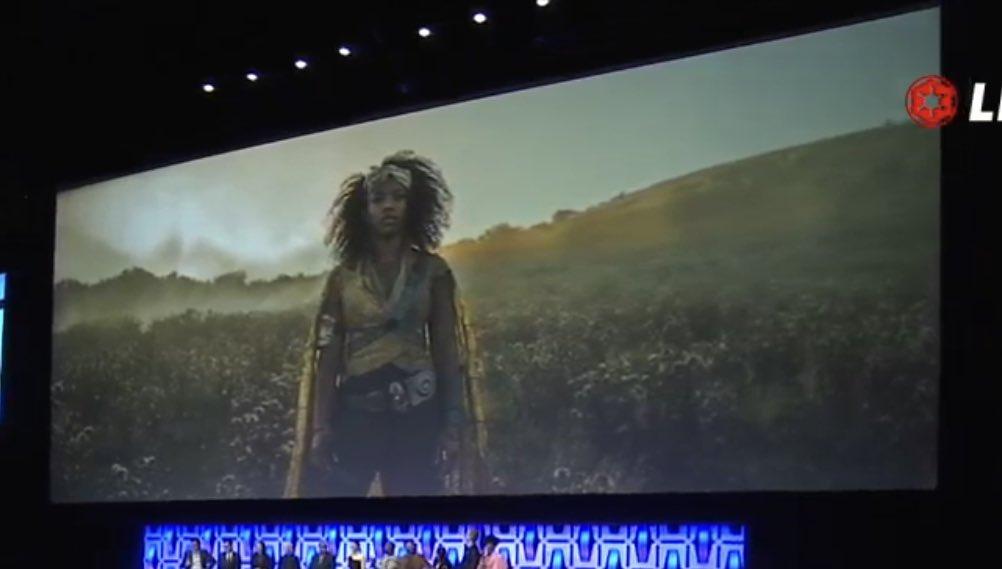 She confirmed her character's name is Jana. "The original group are going on this epic, epic adventure together, and I'm so excited about where Jana crosses paths with them," she says. "It's wicked."
Boyega gets his own sets of questions. Finn is no longer questioning where he is. He is a "full fledged sexy young man," committed to the Resistance, he said.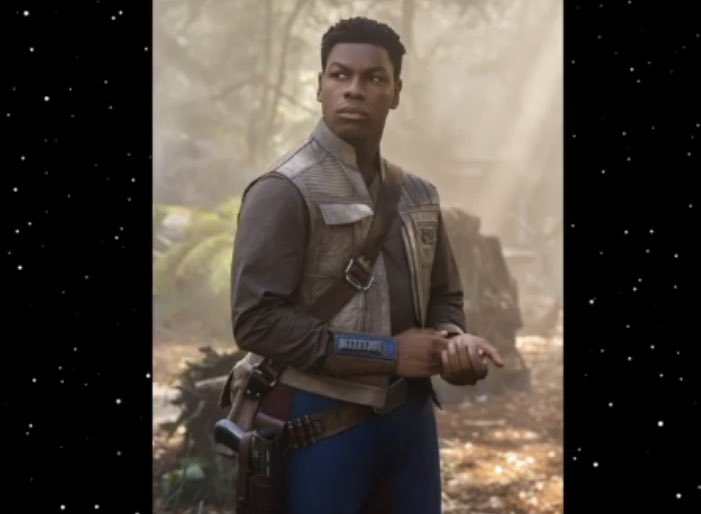 He noted that Finn never gets his own identity from his costume, since he was always wearing whatever he could find or was given to him. This time, he chooses his own look, reflecting his newfound confidence as a Resistance warrior.
Next questions are for Oscar Isaac: Who is a better pilot — Finn or Han Solo?
"No one can pilot the Millennium Falcon like Han," Isaac said. "However, Poe can literally fly anything. I'm just saying, Poe is the better Uber driver."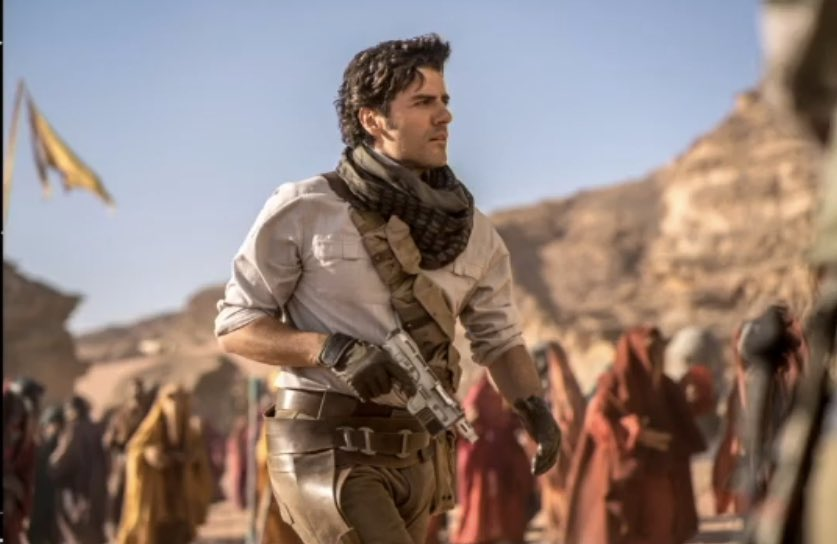 Isaac, asked why he doesn't take anything seriously, throws fuel on the "love pentagon" theory: "I think he takes his love for Finn very seriously," the actor says.
Daisy Ridley reveals the first shocking piece of news: Even though the Skywalker family lightsaber, that once belonged to Anakin, was destroyed in The Last Jedi, it is making a comeback in this film. "The lightsaber that Rey inherited from Luke Skywalker lives."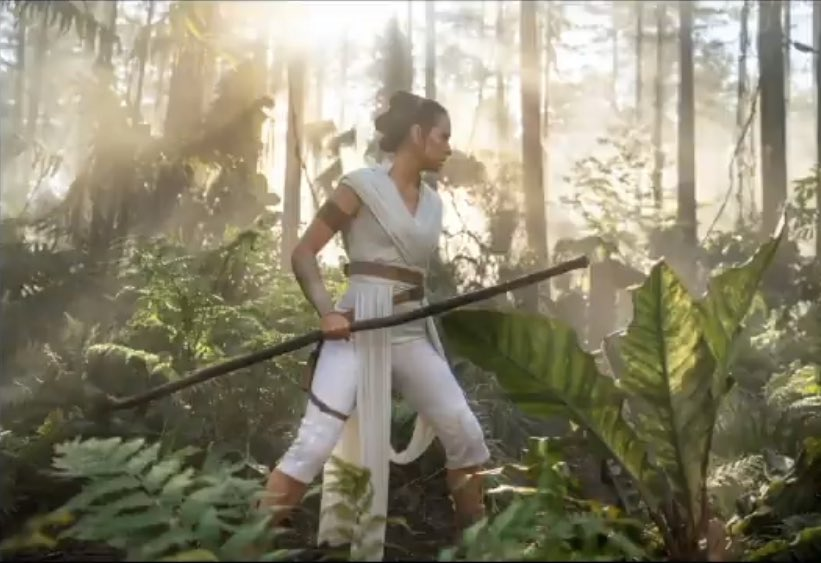 "There are no more semi-naked Kylos," Ridley says."Only full," Isaac said. "We gotta step it up a notch."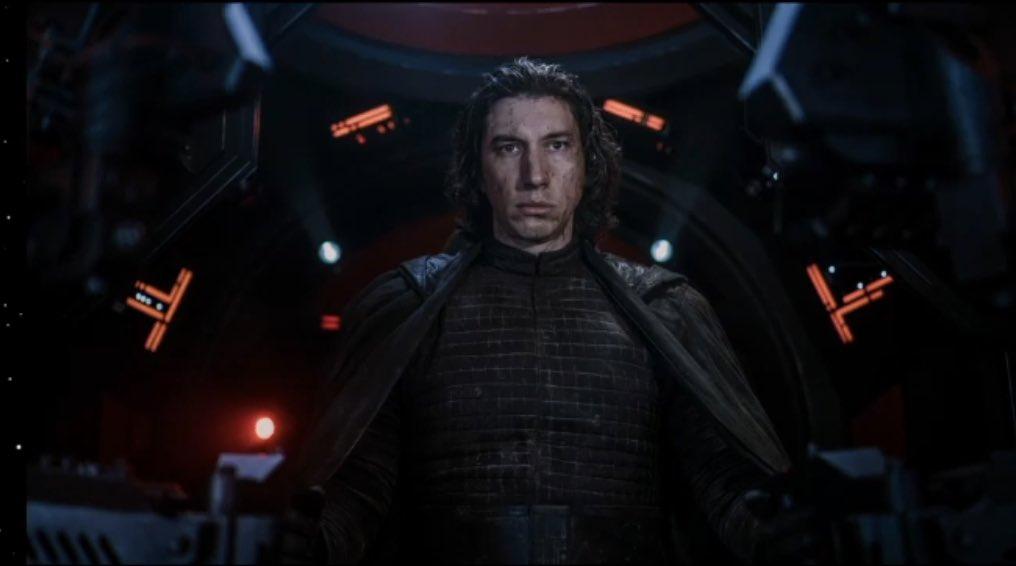 "As a trained mechanic," Colbert asks, what would Rose Tico think of the Millennium Falcon. Even though it's universally considered a "pile of junk," she would think it's "Pretty cool," the Tran said.
Rose, who was last seen in a coma, is now she's back up and serving the Resistance as we see a shot of her in a military base with Rey.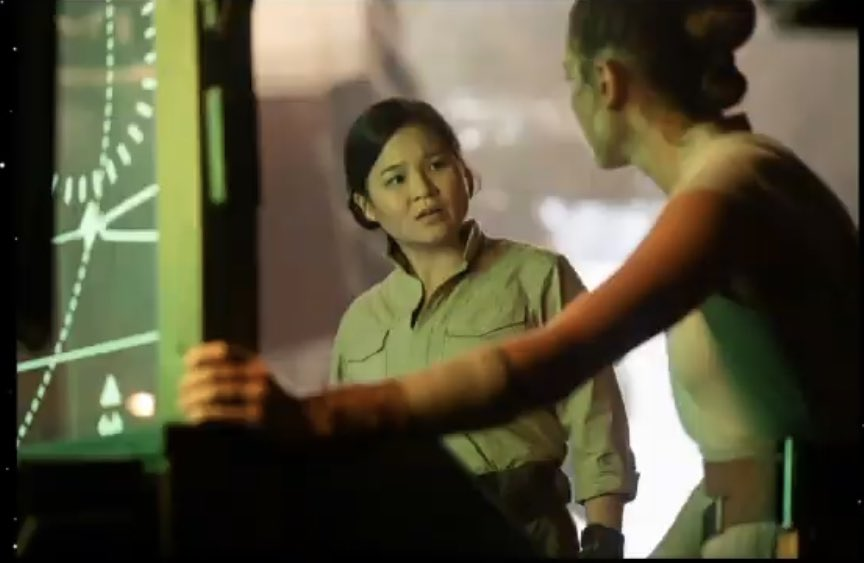 "I was grateful to Rian Johnson for so many things he did in Episode VIII," Abrams said. "And the greatest for me was casting Kelly Marie."
Joonas Suotamo gives the crowd a Chewbacca greeting in his native Shyriiwook roars, and then in English calls for cheers to his predecessor Peter Mayhew. He notes that the costume hasn't changed since 1977 — Chewie is the same guy, he's just played by someone different inside.
"I think, for me, playing Chewbacca is sort of a duty at this point," Suotamo said. "When I was sitting on our living room carpet watching that saga start [as a kid], I was sure that in this world there is a place for everyone. [With Chewbacca,] I have to show everyone, no matter how big or small you are, there is a place for you in this world."
Colbert asked: What do porgs taste like? Suotamo explains, "They taste best fried."
Abrams showcases an armless, slug-like being with a shocked expression — Klawd. "He is a friend of the Resistance, and someone Chewie brought in," the director said. The photo of Klawd showed him in a woodland setting alongside Greg Grunberg's X-wing pilot "Snap" Wexley.
TRAILER TIME. IT'S TIME.
When the teaser ends, actor Ian McDiarmid — who has played Emperor Palpatine in the original films and prequels — appears on stage. In the character's signature growl, he says: "Roll it AGAIN!"