When it comes to remakes of beloved films, there are generally two schools of thought; the first says, "why would they risk ruining a story that was already done so well before?" while the second school says, "the two films are separable from one another – even if the remake tanks the original will always be a classic". Anytime a remake is announced there seems to always be more responses in line with the first school of thought rather than the second. Naturally, the response to Aladdin was no different, especially when all anyone could think about is a Will Smith smurf Genie. After watching the movie, I can honestly say it was a lot of fun and I think people will be pleasantly surprised if they go in with an open mind.
Before we jump into it, I will address the burning question everyone has: "well, how does Smith's Genie hold up compared to Robin Williams' Genie?"  My response: go watch the movie and see for yourself. Will Smith does a great job at playing Genie. We all feel compelled to compare his performance with the 1992 performance by the late great Robin Williams, who voiced the Genie in the original animated film from Disney's renaissance period (1989-1999), but Will Smith does not let you down.  He brings his fun, charming, charismatic self in good form.
With Guy Ritchie as the director and an already lovable Will Smith as Genie, was this movie ever really going to be that bad? Going into it I didn't think so. Aladdin captures the magic of Disney with great all-around performances, contemporary jokes, beautifully designed sets, and masterfully executed musical numbers. This Aladdin breathes life into the film – bringing you back to an exotic land filled with wonder. The Man from U.N.C.L.E. director brings that same high energy he does with all his other films. Although his movies usually have more grit to them (it's a Disney film after all), he masterfully put together an equally fun and exciting movie that old and new fans of Aladdin would appreciate.
The large musical number set pieces were a spectacle to watch. Those alone could have made this movie enjoyable. Along with extravagant musical numbers, present are all of the favorite songs from the original film, as well as two new ones, which help forward the message of women empowerment that is prevalent in the live action remake. Add in dream-like camera motion from start to finish and the audience is taken on a 128-minute magic carpet ride of excitement, laughs, and important lessons about staying true to yourself no matter what.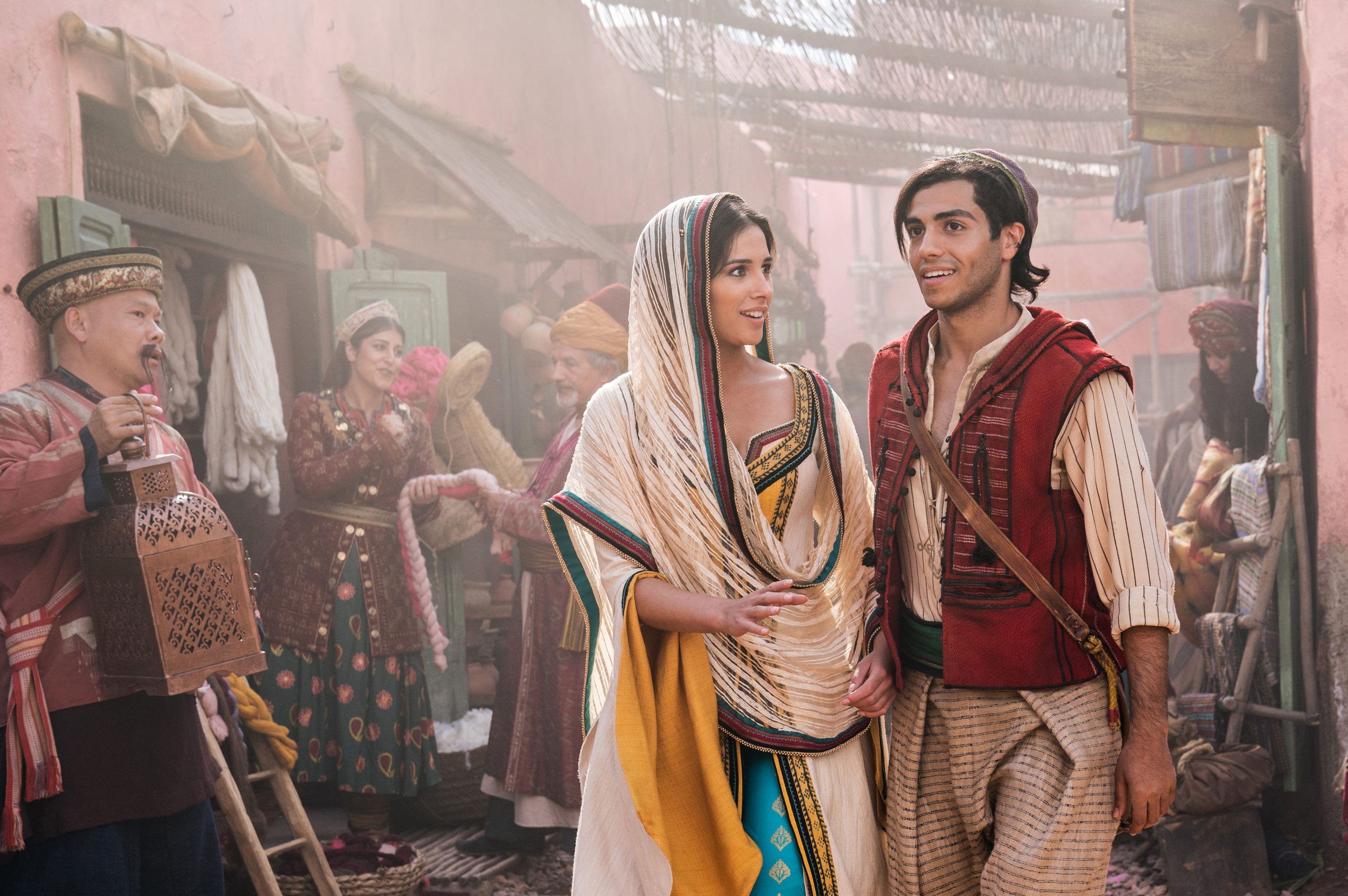 The cast literally brings the animated characters to life showing a strong chemistry, particularly between Mena Massoud's Aladdin and Naomi Scott's Princess Jasmine, who do a great job personifying the characters authentically and true to the original story. Aladdin is a kind-hearted orphan boy that lives with his pet monkey Abu in the streets of Agrabah. They often get into trouble as he has to resort to stealing in order to eat. Aladdin comes across a disguised Princess Jasmine, who wants to see the city outside of the palace walls. The two have a brief connection, but are separated due to a series of events which results in Aladdin employing the help of a Genie found in a magic lamp in the hopes of impressing Princess Jasmine. Marwan Kenzari faithfully plays, what the internet dubbed as "hot Jafar", the unbeknownst evil sorcerer and trusted vizier to the Sultan, who seeks to gain the rule of the kingdom of Agrabah for himself. Navid Negahban plays Jasmine's aging father and Sultan, who needs to find a successor to rule his kingdom but, overlooks his daughter Jasmine on account that she is a woman and by their law cannot be Sultan. A notable add-in to the story is Jasmine's hilarious handmaiden, Dalia, played by Saturday Night Live alumnus, Nasim Pedrad. She provides a bubbly supporting role which complements the rest of the cast well and adds a new dynamic to the story which improves upon the animated classic.
Along with the original tale of star-crossed lovers and heroes' journey from the original film, this version provides more emphasis to the desires of Jasmine. This film is far more introspective in that regard. Where the old film does not deeply delve into what Jasmine wants, this film smoothly adds this layer of depth that enriches the story. It seems like it is starting to be a trend, and rightly so, for the Disney live-action remakes to incorporate more complex female characters with motives that are not characteristic of the superficial damsel in distress. Princess Jasmine is more than a typical Disney Princess with her desires to care for and rule the people as an independent person, not just as a Sultan or King's daughter or wife. The film incorporates this dynamic nicely in a way which does not seem forced or in your face.
Existing fans of the animated Aladdin film and newcomers to the Aladdin story will be pleased by this live-action remake. It is an entertaining movie with good acting, great music, and is captivating on the big screen.
Rating – 7.5/10