Like the other three Toy Story movies, Toy Story 4 revolves around the themes of purpose and belonging. As major drivers for the whole franchise, these themes poetically go hand in hand with the notions of growing up and moving on. What better way to exemplify these very pertinent feelings than with the personification of old toys trying to find meaning after the kid that once played with them grows up?
As people, we are constantly in a state of flux, and therefore, we are never able to remain in a single moment.  Moving forward means we have to accept new times, places, friends, occupations, goals and aspirations.  Whether we like it or not, everything around us is constantly changing.  The same goes for the toys that have been on the lunchboxes and pajamas of millions of kids since the original theatrical release of Toy Story in 1995.  These toys have always had the same trepidation most people have had in their lives: the fear of change.  No one wants to feel like they are old news or like they do not belong.  To feel valued is an inherently important aspect of living a human life.   The message of belonging is one that resonates with people young or old and is likely a contributing factor to the franchise's continued success.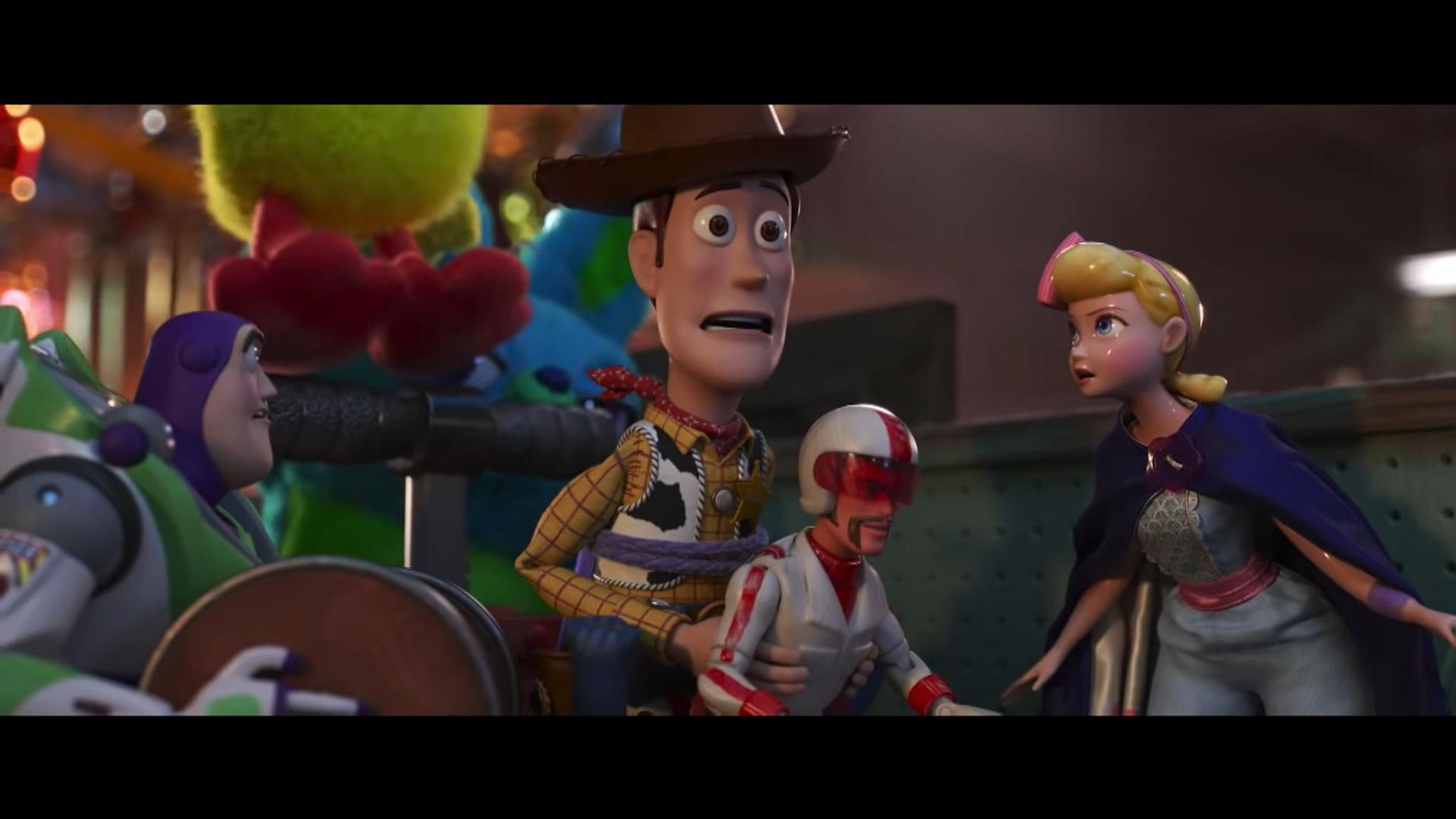 Following suit of the first three movies, Toy Story 4 revolves mainly around Woody's (voiced by Tom Hanks) acceptance of his place in the world.  Woody is now no longer the leader of the group and no longer the favorite toy of his new kid, Bonnie.  With Andy long grown up and out of his life, Woody has to cope with his new life as someone else's toy.  When Bonnie (Madeleine McGraw) brings home a new toy she made in kindergarten named Forky (Tony Hale), Woody feels it is his duty to protect Forky and help him realize how much he means to Bonnie.
The film also has Buzz Lightyear (Tim Allen) and most of the familiar gang such as Cowgirl Jessie (Joan Cusack), the Potato Heads (Estelle Harris and the archived sound recordings of the late Don Rickles), Bo Peep (Annie Potts), Melephant Brooks (Mel Brooks), among other familiar characters.  There are also new characters such as Keanu Reeves' Great Canadian Stuntman: Duke Caboom, Christina Hendricks' Gabby Gabby, as well as, Keegan-Michael Key and Jordan Peele as Ducky and Bunny. 
Right from the beginning of the movie, the audience is greeted with a familiar soundtrack that could be described nowhere short of delightful.  There is something remarkably nostalgic about hearing a certain tune in a new movie that makes you reminisce about the times in your life when you enjoyed the previous installments of the franchise.  If you are a child of the 90's, hearing the music from Toy Story 4 will certainly transport you back to your childhood.  All 4 Toy Story movies have been scored by Randy Newman, and it is no surprise why.  The Hollywood composer and Disney Legend has done a fabulous job of setting the soundtracks to the adventures of Woody, Buzz, and the rest of the gang for almost 25 years.
Visually the animation of the world is absolutely stunning.  It is mind-blowing how Disney's Pixar is able to recreate the texture of fine wood grains or replicate the perfect sheen and sparkle of a doll's hair as if they placed each hair individually for utmost realism.  The plastics in this film all have their own unique textures that are evident as they emit varying degrees of glossy or matte light reflections off of their surfaces.  Finally, the outside scenes, whether they are the brilliantly illuminated carnival rides at sun-down and night, or the realistically weathered buildings and coarsely textured asphalt roads, were executed so well that one could briefly find themselves in moments of forgetting this is an animated film. 
Josh Cooley directs a charming animated feature that can draw real emotion out of audiences better than some live action films. Although it is a big budget fourth installment of a hugely successful film franchise, this movie still has some of the same magic the first films had, which is a challenging feat for most film franchises. Andrew Stanton and Stephany Folsom are credited with writing the screenplay, but the story itself is credited to many people including John Lasseter, the director and credited writer of the first two Toy Story movies. The consistency in writers throughout the franchise have made the transition between films pretty smooth. Although it is a new director, the story still feels true to how the original creators would have intended it to turn out. Overall the story is humorous, touching, and has lots of excitement throughout its 1 hour and 40 minutes runtime.
I may be speaking out of school here, but the thing I did note to myself was that at around the end of the second half I found myself asking, "how long is this movie?" I am not usually one to ask this question, but for some reason my attention went adrift around this part in the story. I do not think there was a problem with the pacing. I actually thought the movie had quite good story progression. I am curious to know if anyone else has this same thought around the 1hr 10 min mark. Other than that short moment – which could very well just be me – I really enjoyed the movie.
Whether you are a lifelong fan of the Toy Story franchise, or you may just be reacquainting yourself with the films while watching with your children, Toy Story 4 is definitely a worthwhile movie that's enjoyable for everyone. 
Rating: 9/10
Toy Story falls with style into theatres on June 21, 2019