Weathering With You (Japanese: 天気の子) is a 2019 Japanese animated romantic fantasy film written and directed by Makoto Shinkai. This long-awaited anime follow-up to his 2017 acclaimed feature, Your Name, did not disappoint. The film is set in Japan during a period of exceptionally rainy weather and tells the story of a high school boy who runs away to Tokyo and befriends an orphan girl who appears to be able to manipulate the weather.
Expectations were higher than ever after Your Name. being that it is second highest-grossing anime film of all time after it topped $357 million worldwide. However, Makoto Shinkai new film has already grossed in excess of $100 million since it came out in July and is expected to top Disney's live-action Aladdin to become Japan's biggest theatrical release of 2019.
I'm delighted that once again, Shinkai takes aim at the teenage market, that is ever-growing. As a result, Shinkai is able to balance teenage romance and magical realism, without it ever becoming cliché or boring. He works with many of the creators from Your Name, including producers Noritaka Kawaguchi and Genki Kawamura, animation director Masayoshi Tanaka who designed the characters in the earlier film, and the Japanese rock band Radwimps for the bouncy, blasting score. Having all these creators come together again resulted in charming tale of magical powers and the price of using them. And, just like Your Name the ending revolves around an environmental disaster, which I am indifferent to.
Hodaka (voiced by Kotaro Daigo) is an idealistic 16-year-old who runs away from his parents' rural home and heads for Tokyo. He is on a ship about to be swept overboard by the typhoon when a hand reaches out to grab him. This character's name is Suga (voiced by Shun Oguri) a well-spirited, ironic editor of a magazine who offers runway boy a job and somewhere to live.
Following the leads, Hodaka goes around the city doing interviews with people who have had strange experiences worth writing about. This leads him to meet the other protagonist of this narrative, the orphan Hina (voiced by Nana Mori). She is a girl of his age, but with a gentler personality – and an uncanny ability to make it stop raining by praying. Soon enough, she becomes known as the "Sunshine Girl," when she opens a business with Hodaka. Hina would provide her mysterious ability to people who want clear weather for special events that require a sunny sky. This becomes very important to them because it allows her to keep food on the table for herself and her younger brother.
However, everything comes with a price. Hodaka learns that Hina's powers are those of the mythical Japanese "Weather Maiden" who was used in ancient times for similar purposes, but who was actually a sacrificial victim. Part of her life force was used up every time she cleared the skies and let the sunshine in.
With a newfound worry for them to reconcile with, Hodaka, Hina and Nagi find themselves in new trouble because they are living without an adult guardian. This leads to the being pursued by the Japanese police and the social services. They end up fleeing across the city seeking shelter from the incessant rain and cold. This adds a level of tension these scenes because she can no longer fix the situation with her powers.
Around this point, the film takes a turn, which I found incredible, where fantasy dies and the stark realities of the adult world shakes the defenseless young people. I would explain further, although no spoilers here, but this where to me the movie gets to the same level of emotional distress that Your Name was able to convey.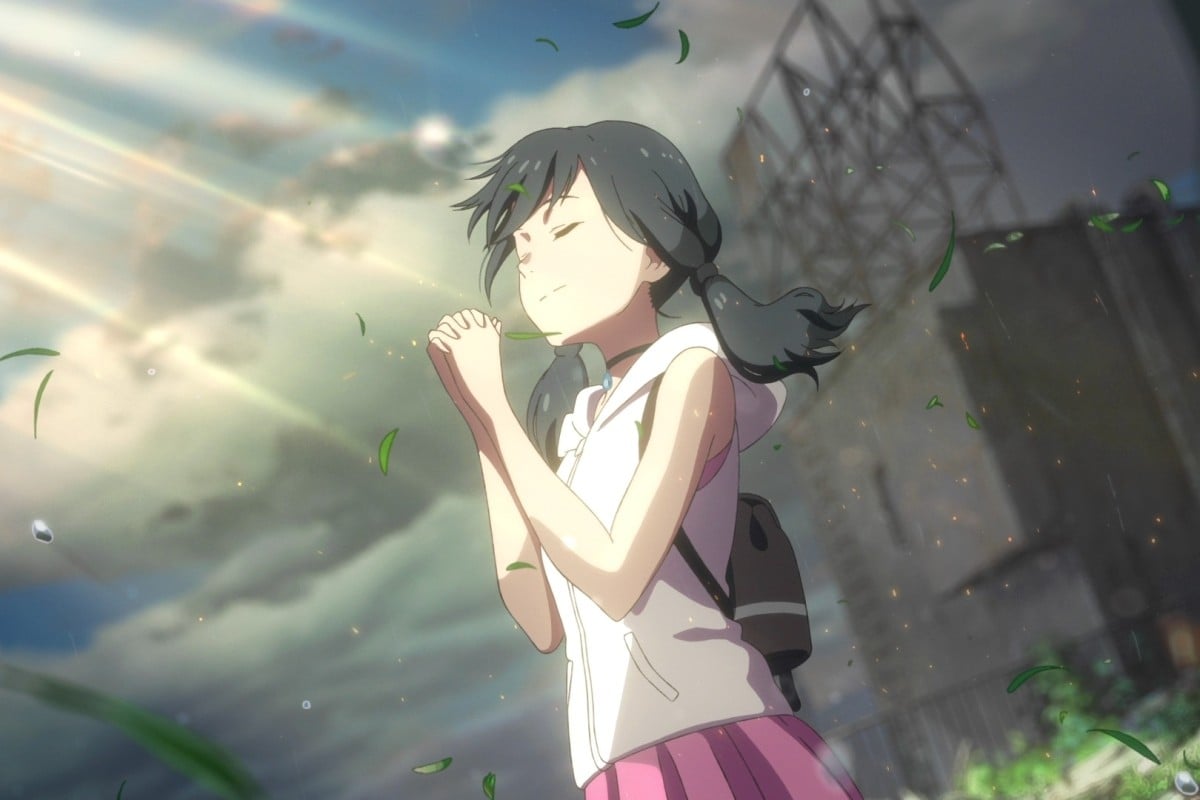 The film has an unmistakable environmental message for young audiences to embrace: messing with nature has its cost. For Hina, who has been given her powers at a prayer shrine, nature is sacred. The music swells every time it looks up at the expressive, ever-changing sky with its freak weather, snow in August, flooded rivers, water bombs falling from the sky, pedestrians being knocked out by giant hail stones, a perfect storm that tears through buildings and ruins half the city.
I would comment on the animation but how could I do it justice. How do you even come to describe a visual experience that elicited an emotional response that I didn't even know could be produced from mere visuals? Masayoshi Tanaka as character designer, Atsushi Tamura as animation director and Hiroshi Takiguchi as art director have truly outdone themselves with this masterpiece of animation. Even if the story was abysmal, which it wasn't, I'd still sit for hours watching rain droplets hit the ground then slowly fade as the sunshine punches through clouds. It is visual experience that needs to be seen with your own eyes to be fully apprenticed. I highly recommend, not only to anime fans but the wider movie audience to take off to this film when it receives its proper film run.
To me the best movies are to the ones that you think even after you leave theater. But due to over saturation of the movie market I find myself forgetting a film as soon as the next one comes along. But with Weathering with You, I find still find myself constantly reflecting on the message of the film, remembering how sacred nature is, and how it is our duty to protect it.
Rating: 8/10