Shazam! provides with a mixed bag of irresistible goodies and fun we have not seen in a superhero movie for a long time. It can be argued that the DCEU has had a rather low level of standards and expectations in its superhero film adaptations over its course. Shazam! has effectively turned a corner on what we as viewers conceptualize in a DCEU film. Whatever you've said and preached about previous superhero movies, will most definitely not be repeated when Shazam! is brought into the discussion.
The latest in Warner Bros.' DCEU film adaptations (officially opening in theatres April 5) looks at a teen fostered boy who can transform at whim into an adult superhero with abilities in the league of the Greek gods and Superman himself. It's a wonderful depiction of family, coming-of-age, and adolescent growing pains.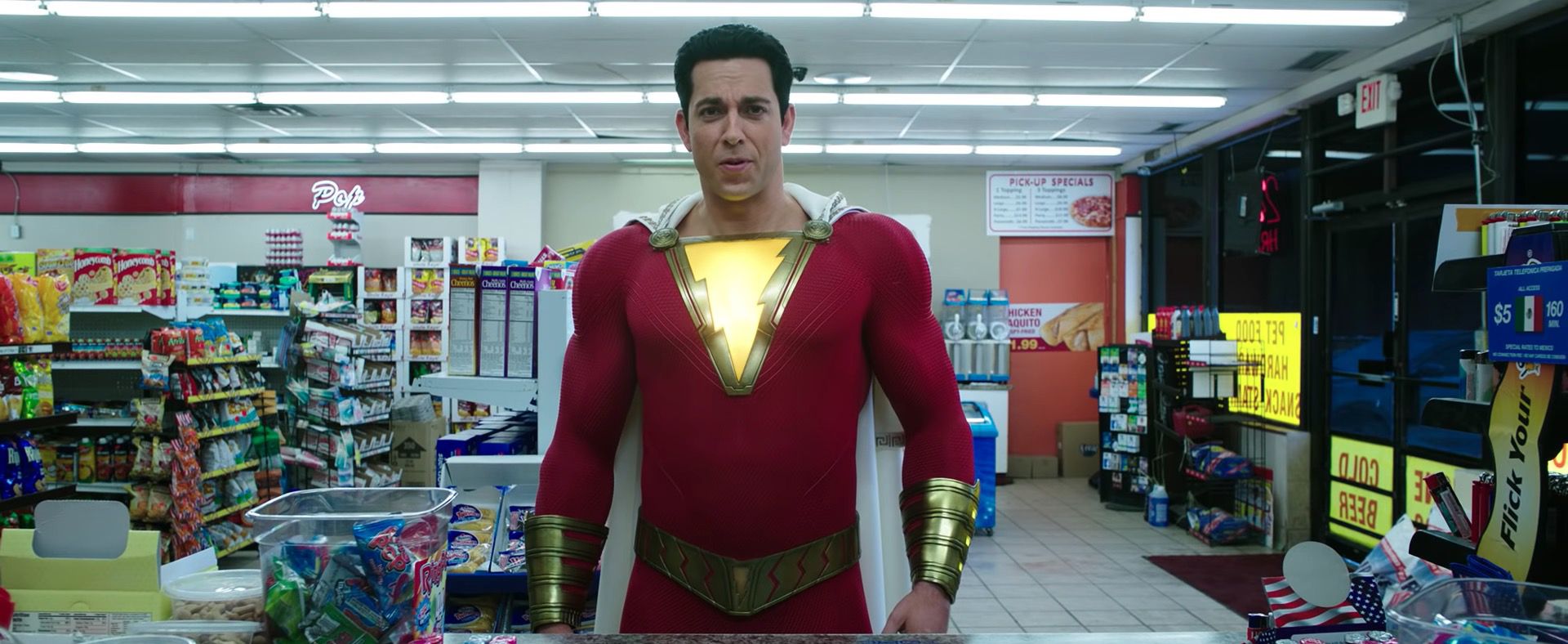 With chips on their shoulders and a world to prove, director David F. Sandberg and lead Zachary Levi more than stepped up to the plate with a game plan in mind. They came to play, and it shows. A harmonious amalgamation of Sandberg's visual eye, and Levi's "big kid" mentality allow for the multi-faceted viewing experience.
One of the most unsung aspects of the film prior to seeing it, is the great casting of the kids. Asher Angel (portraying Billy Batson) portrays the edginess, vulnerability, and closed heart of a kid who grew up within the system. Armed with a desire to find his mother, he has bounced from foster home to foster home.
A brotherhood bond is formed with one his new foster brothers, Freddy Freeman (portrayed by It star Jack Dylan Grazer). Every minute of Grazer's screen time is a great and often humorous display of the superhero sidekick role. This theme of brotherhood ties into the overarching themes that surround family, coming-of-age, and adolescent growth as their ebbs and flows with their relationships are formed.
Villain presence in the form of Dr. Thaddeus Sivana (portrayed by Mark Strong) and his seven deadly sins, offers the viewer with a genuine superhero/bad guy engagement. The script and acting embody all the good fun and humour that Shazam! has done so well to incorporate.
Action scenes are fluid and entertaining. Much of the choreography is reminiscent of both Aquaman and Man of Steel, which were some of the high points of the films that resonated within the DCEU. They seemed to beautifully integrate with the comedic banter in between and offered a very fresh and multi-faceted viewing experience.
Visuals, while not incredibly stunning as much of the environments were primarily in urban Philadelphia, the CGI on some of the more mystical settings were tasteful. I imagine in future iterations we will get to see the potential that was reached with visuals similar to Aquaman and its quality. Costume design stayed relatively true to comic iterations which was great to see, and have adapted to the big screen almost seamlessly.
Shazam! left our screening in a rain of applause and laughs, garnering a pleasantly refined superhero cinematic experience. It is a heartfelt, comedic, and action-packed superhero film adaptation that will leave a lasting impression on its audience and steers a new direction for the DCEU – hopefully having them stay on this course towards a new horizon.
Rating: 8.5/10
Shazam! hits theatres on April 5, 2019.